Sabancı University Students First in Singapore
An International Achievement by Mechatronic Engineering Students
Sabancı University Mechatronic Engineering graduate students Mehmet Ali Güney, Taygun Kekeç and Barış Can Üstündağ won first prize in the competition held as part of the National University of Singapore's eighth NUS Entrepreneurship Summer School with their business idea titled "COLEPO – Collaborative LEarning PlatfOrm."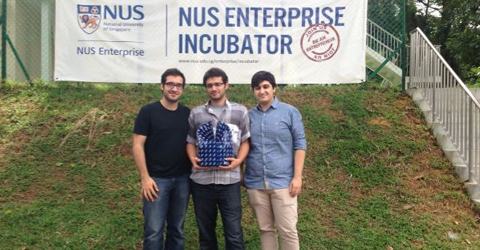 The Entrepreneurship Summer School held by the National University of Singapore (NUS), one of the most prestigious universities in the world, is a two-week course that covers diverse subjects such as the economic development of Singapore, the entrepreneurship climate in the region, and how to build plans for entrepreneurship and business models.
The only Turkish participants of the program were from Sabancı University with the support of the SU Entrepreneurship Council. There were other international students from China, Pakistan, South Korea, Hong Kong, Indonesia, United States, Switzerland and Belgium.
At the conclusion of the two-week program, students are expected to submit a business idea based on the knowledge and experience they have gained. Nine submissions this year were evaluated by a Singaporean and an American angel investor and an NUS professor. The idea of the Sabancı University COLEPO Team won first prize.
Mehmet Ali Güney, Taygun Kekeç and Barış Can Üstündağ, who are members of the Sabancı University Control, Computer-Aided Vision and Robotics Research Group, say that their winning idea was based on the work they did within the research group. According to the students, the project began with the stewardship of Professor Mustafa Ünel of the Faculty of Engineering and Natural Sciences and was chosen to be included in the Technological Entrepreneurship Capital Support Program of the Ministry of Science, Industry and Technology with an expanded scope. They explain that the idea will be brought to life with Inovatink, a company founded by the students.