UK-based higher education ranking QS revealed the Emerging Europe and Central Asia – EECA Universities Rankings. Sabancı University gained three positions compared to last year and became 14th among the "Top 150 Universities."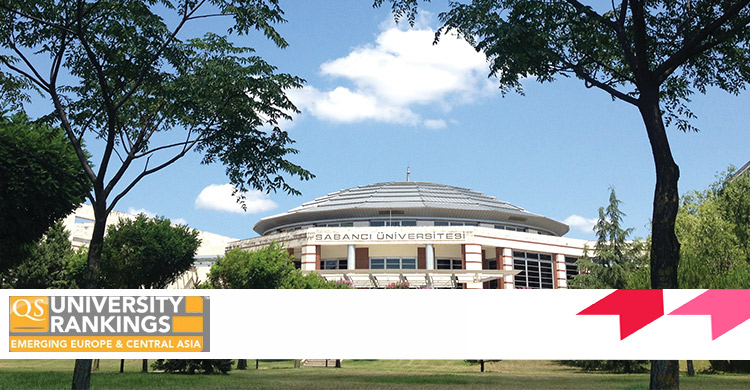 The Emerging Europe and Central Asia-EECA top 100 list compiled by QS University Rankings include 12 Turkish universities. Sabancı University advanced from 17th position last year to become the 14th this year.
Also included in the rankings were METU and Bilkent University at 11th position, Koç University at 15th, Boğaziçi and Istanbul Universities at 17th, ITU at 30th, Hacettepe University at 34th, Ankara University at 56th, Ege University at 73rd, Gazi University at 83rd and Dokuz Eylül University at 91st position.
A statement issued by the ranking institution explained that the QS university rankings for European and Central Asian nations were assigned different criteria depending on region, which differentiates the EECA Rankings from the QS World University Rankings.
The list covers universities from 30 countries including Albania, Armenia, Belarus, Bosnia-Herzegovina, Bulgaria, Croatia, Czech Republic, Estonia, Georgia, Hungary, Kazakhstan, Kosovo, Kyrgyzstan, Latvia, Lithuania, FYR Macedonia, Moldova, Montenegro, Poland, Romania, Russia, Serbia, Slovakia, Slovenia, Tajikistan, Turkey, Turkmenistan, Ukraine and Uzbekistan. There are 12 Turkish universities in the top 100, and 16 in the top 150.
The Lomonosov Moscow State University and Novosibirsk State University from Russia were first and second, respectively, and Charles University from the Czech Republic was third.
Survey results had the most weight in determining scores:
A total of nine factors were assessed: academic reputation (30%), employer reputation (20%), faculty/student ratio (15%), papers per faculty (10%), web impact (10%), staff with a PhD (5%), citations per paper (5%), international faculty (2.5%) and international students (2.5%).