With Sinan Tuncay, 2010 graduate of the Visual Arts and Visual Communication Design Program, on his solo exhibition in New York –I'm sorry, Leyla
Interviewer: Şule Yalçın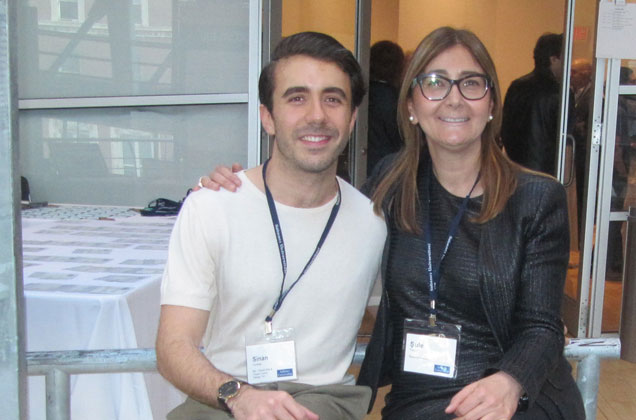 I received a phone call from our graduate Sinan Tuncay, shortly after I arrived in New York to attend the New York Alumni Meeting. I was tempted by the vibe and excitement in his voice when he invited me to visit his exhibition, even though I was wayworn. I met with Sinan and he showed me around his exhibition. I was so proud I couldn't wait to do an interview and inform you about Sinan's first solo show in New York "I'm sorry, Leyla".

How did you make it, Sinan? Would you please tell us about it?
Last year, I applied to the Lens Blog Portfolio Review sponsored by New York Times. 150 applicants, including me, were chosen from 3500 photographers. This gave me a chance to show my works to various other curators, editors and gallerists. It was really inspiring to have their comments in person. Then I met with United Photo Industries team for my first solo exhibition in New York. They were closely interested in my works, and offered me to open an exhibition after a few months.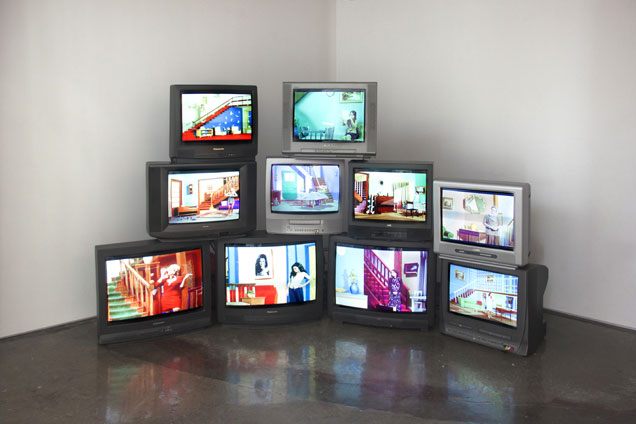 When was the opening? How did you feel?
Opening date was April 7. Probable because of the excitement overdose, I can barely remember the opening. I realize that each of my works help me reflect my inner world and expose me to people who have no idea who I am. Exhibition is a weird moment that makes you feel both overt and shy. I was very curious about what critics would think, especially of my latest video works. I was pretty much reassured when I received positive feedback beyond my expectation and could convey the background stories to the audience.
You picked a very interesting name for your exhibition. Why did you name it "I'm sorry, Leyla"?
Maybe it is a melodramatic effect of Turkish cinema. Leyla feels like a melancholic sentiment: a long-desired but never fulfilled nostalgia. I got the inspiration to name it "I'm sorry, Leyla" from 'Leyla, The Self-Portrait' which I made specifically for this exhibition. For me, this song is the semi-intimate voice of Zeki Müren. My mind was surrounded with his voice while carving the story of this exhibition. In general, this exhibition can be read as a combination of a pinch of complaint and confession, just like the song itself.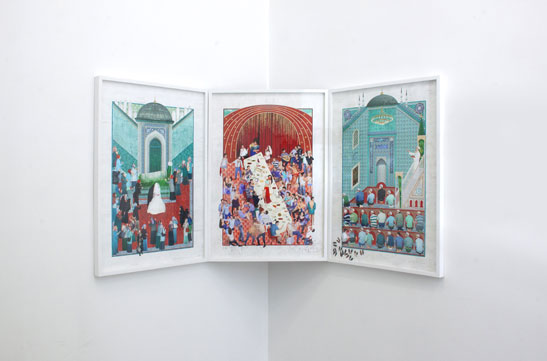 Did you have any difficulties while preparing your show? How did you get over?
Everything challenged me, from project start-up to exhibition set-up. First, I had an image of what I was going to do; then I tried to deliver it but was never satisfied with the results throughout the preparation process. I did my plans and schedule, but technical disruptions and last-minute calls turned up. I had to accept these ups and downs as an inseparable part of preparation.
Who are your visitors?
My visitors are from different backgrounds, which is the glamor of New York. Students from School of Visual Arts came for a class, and Güler Sabancı who was in New York for the alumni meeting visited my solo.
How do you describe your technique?
GI make photo and video collages floating between sheer scale and miniature. Sometimes, I build surrealistic scenes using my own mock-ups, or photographic images that I took or found. I also include figures I took in these fictional scenes. I aim to mirror moments /states about culture and gender thorough this visual tension between the scene and people.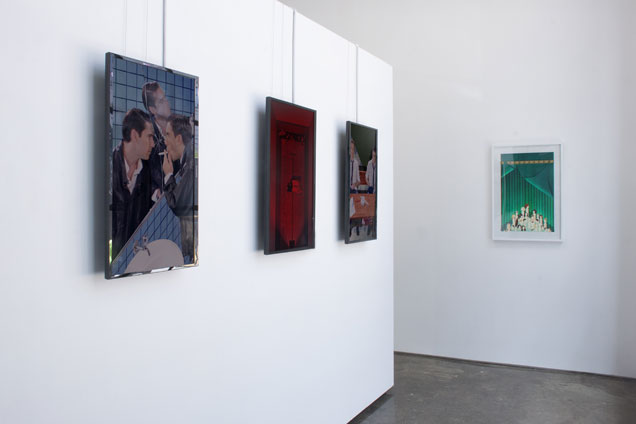 What do you deal with in your works?
I style my works in parallel with the contradictions between public and private as well as contemporary and conventional, just like Turkey. I want to reflect individual's conflict with the gender –a concept reduced to the image of women's virginity and heteronormative masculinity.
Do you plan to open an exhibition in Turkey in the near future?
My first solo in Istanbul will be at C.A.M Gallery by the end of September. I am currently working on it.
I would like to thank you for this pleasant interview, Sinan. Our alumni engaging with such beautiful works always make us happy.
Sinan Tuncay completed the Visual Arts and Visual Communication Undergraduate Program of Sabancı University in 2010. He received his Master's degree at the School of Visual Arts of New York.