A study on resistance to antibiotics conducted by Faculty of Engineering and Natural Sciences member Murat Çokol in partnership with Harvard University and MIT was the cover story of the June issue of Molecular Systems Biology.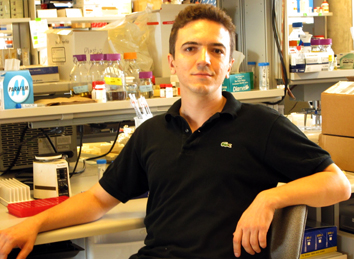 This article is the first paper on drug interaction predictions in different organisms based on genomic comparison. Molecular Systems Biology is published by the Nature Publishing Group and is the most influential publication in systemic biology.
Murat Çokol and others have developed a a novel method that automatically determines specific combinations of synergistic drugs that will be effective against the antibiotic resistance of any microbe. We discussed the critical social and scientific issue of antibiotic resistance with Murat Çokol:
Can you briefly discuss your article?
We live in a time when antibiotic resistance is on the rise but the discovery of new antibiotics has slowed down. This makes it even more important to use a combination of existing antibiotics. Our study that made the cover of the June issue of Molecular Systems Biology is on the rational design of antibiotic combinations.
How long have you been working on this issue? What solution or approach does your study bring to this global issue?
I have been working on the rational design of antibiotic combinations for almost eight years. I started this subject during my postdoctorate studies in Harvard Medical School and have been continuing at Sabancı University for the last six years. Our study focuses on antibiotics. Even the normal form of the tuberculosis bacteria requires an intense antibiotic combination treatment for a year. Two million people die of tuberculosis every year and sustaining treatment is difficult, especially in poorer countries. This makes it necessary to develop a novel tuberculosis treatment that is fast and effective. We are conducting interdisciplinary research on tuberculosis treatment in our lab at Sabancı University.
To summarize the significance and differences of our approach: Experimenting on the tuberculosis bacteria is expensive, slow and dangerous. That is why we used E. coli, a harmless bacterium, in our studies. This is a bacterium that resides in the intestines of all humans, assists in digestion, and is used as a model organism in biology. All of our rational drug combination experiments were carried out on this harmless bacterium. We then compared the genomes of E. coli and tuberculosis bacteria to predict the drug combinations that will be effective on tuberculosis as well. We found that our predictions were consistent with the effects of 24 other combinations that had been suggested before.
The methodology of our study may be extrapolated to all microorganisms with a known genome, which can prevent bacterial infections with less toxic effect. This is the first paper that predicts drug interactions in different organisms via genomic comparisons. Owing to extensive studies on cancer genomes, it is possible that our methodology can be used for the treatment of cancer as well.
An interesting conclusion of our study is that drug combinations are frequently less effective (antagonistic). In other words, a haphazard combination of drugs may even weaken the treatment. Another issue is that drug combinations may carry wide- or narrow-spectrum synergistic effects. Some combinations are better at killing all bacteria, while some are only effective against a specific type of bacteria. Going forward, I plan to work on considering these factors in the treatment of tuberculosis infections and developing synergistic drug combinations into specific drugs.
About Murat Çokol:
Murat Çokol works on molecular biology at Sabancı University. Specifically, he studies drug combinations that can yield effective results for human health. Çokol works in applied sciences and holds a number of patents for drug combinations. Most recently, Çokol assisted in the Turkish translations of two popular science books: The Thread of Life: The Story of Genes and Genetic Engineering and The Third Chimpanzee. Çokol is the winner of the 2013 Outstanding Young Scientist Award given by the Science Heroes Society.
To view the article, please click here