The worldwide "Art Conservation Project" implemented by Bank of America Merrill Lynch extends to the conservation of six paintings by Osman Hamdi Bey in the Sakıp Sabancı Museum Collection.
The scientific advisor of the project is Sabancı University Sakıp Sabancı Museum Painting and Contemporary Art Conservation Specialist and Danish Academy of Fine Arts member Filiz Kuvvetli. The scientific committee of the project consists of Filiz Kuvvetli in addition to Getty Conservation Institute Chemistry Expert Lynn Lee, Sabancı University Faculty of Engineering and Natural Sciences Materials Science and Engineering Professor Mehmet Ali Gülgün, and Sabancı University Nanotechnology Research and Application Center members Dr. Meltem Sezen and Dr. Feray Bakan.
Bank of America Merrill Lynch tarafından dünya çapında hayata geçirilen "Sanatı Koruma Projesi" kapsamında, Türkiye'den, Sabancı Üniversitesi Sakıp Sabancı Müzesi koleksiyonunda yer alan Osman Hamdi Bey tablolarının konservasyon ve araştırma çalışmalarının yürütüldüğü bir proje gerçekleştiriliyor. Proje kapsamında Türk sanat tarihinin önemli sanatçılarından Osman Hamdi Bey'in altı tablosu, kullanılan teknik ve malzeme bakımından titizlikle inceleniyor. S.Ü. Sakıp Sabancı Müzesi'nin koleksiyonunda yer alan ve proje kapsamında incelenen diğer Osman Hamdi Bey tabloları ise "Kuran Okuyan Adam", "Camii", "Kokana Despina", "Naile Hanım'ın Portresi" ve "Beyaz Vazoda Çiçekler". Araştırma sonrasında eserler 2017'nin ilk yarısında açılması beklenen Osman Hamdi Bey sergisi ile sanatseverlerle buluşacak.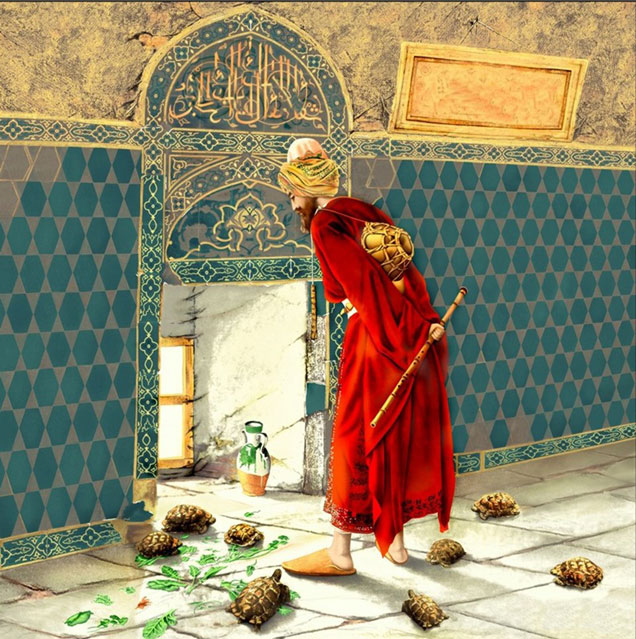 Osman Hamdi Bey'in en değerli eseri 'Kaplumbağa Terbiyecisi' adlı tuval üstü yağlı boya tablosunun biri Pera Müzesi'nde, diğer ise Belma Simavi koleksiyonunda yer alıyor.
X-RAY TEKNOLOJİSİYLE İNCELENECEK
Konservatörlerin resimler üzerindeki onarım çalışmalarını yapmaya başlamadan önceki araştırma sürecinde, sanatçı tarafından kullanılmış malzeme ve tekniklerin incelenmesi, eser üzerinde daha önce yapılan onarımlar ve yüzeyde görülemeyen hasarlar hakkında bilgi sağlıyor. Konservatörler tarafından sıklıkla kullanılan X-Radyoloji tekniğiyle, X-Ray ışınının farklı yoğunluklardaki materyallerin içinden geçerek çıplak gözün tespit edemediği bilgiler ortaya çıkarılıyor. Resimde kullanılan materyallerin çoğu, atomik yapısına göre değişiklik göstermek üzere, X-Ray ışığında geçirgen olma özelliği taşıyor. Böylece bu işlemle, resmin ilk aşamasından itibaren geçirdiği aşamalar izlenebiliyor. Hem sanatçının tuval üzerinde yaptığı değişiklikler hem de resim üzerinde sonradan yapılan onarımlar görülebiliyor.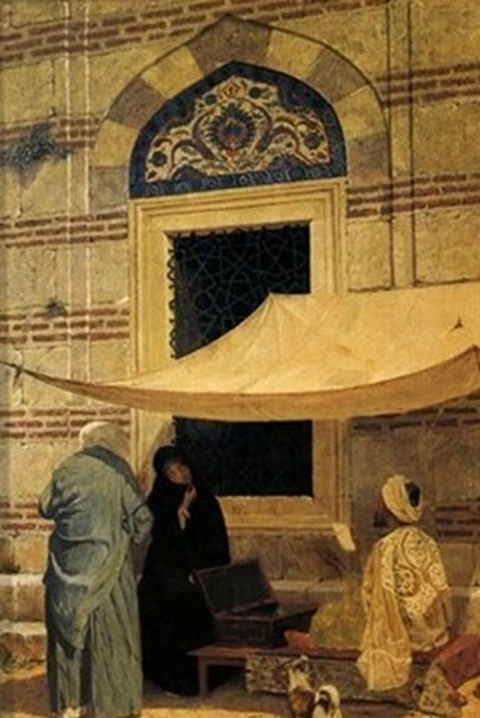 'Arzuhalci'
ARZUHALCİ KURŞUN BARINDIRAN PİGMENTLE YAPILMIŞ
Osmanlı İmparatorluğu'ndan Türkiye Cumhuriyeti'ne uzanan bir zaman aralığında kültür ve sanat hayatına yaptığı eşsiz katkılarıyla bilinen Osman Hamdi Bey imzalı "Arzuhalci" eserinin X-Ray taramasında sanatçının tuval üzerinde kullandığı teknik, fırça hareketleri ve kademeli olarak eserde yaptığı değişiklikler açıkça görülüyor. Resimde daha açık renkte görünen kısımlar, sanatçının içinde kurşun barındıran pigment kullandığı bölgeleri ifade ediyor.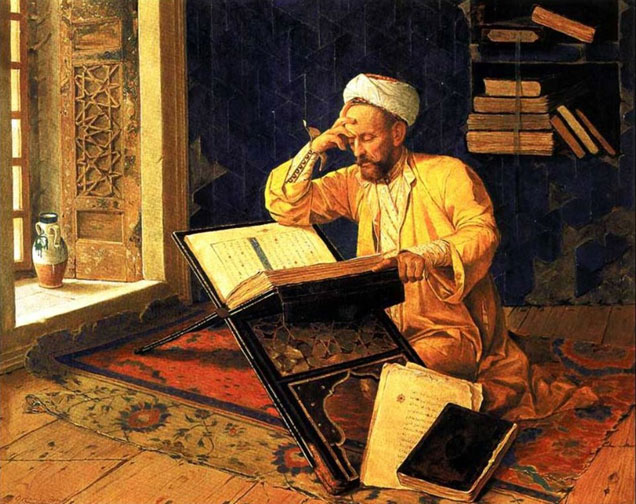 'Kur'an Okuyan Adam'
"TOPLUMSAL ZENGİNLİĞE KATKI"
Merrill Lynch Yatırım Bank A.Ş. Board of Directors Chair Banu Başar said the following about the project: "Our worldwide Art Conservation Project seeks to conserve works of art on one hand, while contributing to the cultural riches and education of societies on the other. We intend to create an environment of harmony and mutual respect among different cultures and traditions. We are proud to have partnered with Sabancı Museum for the conservation of the Osman Hamdi Bey collection. We believe that our efforts will help future generations in their education and interest in art."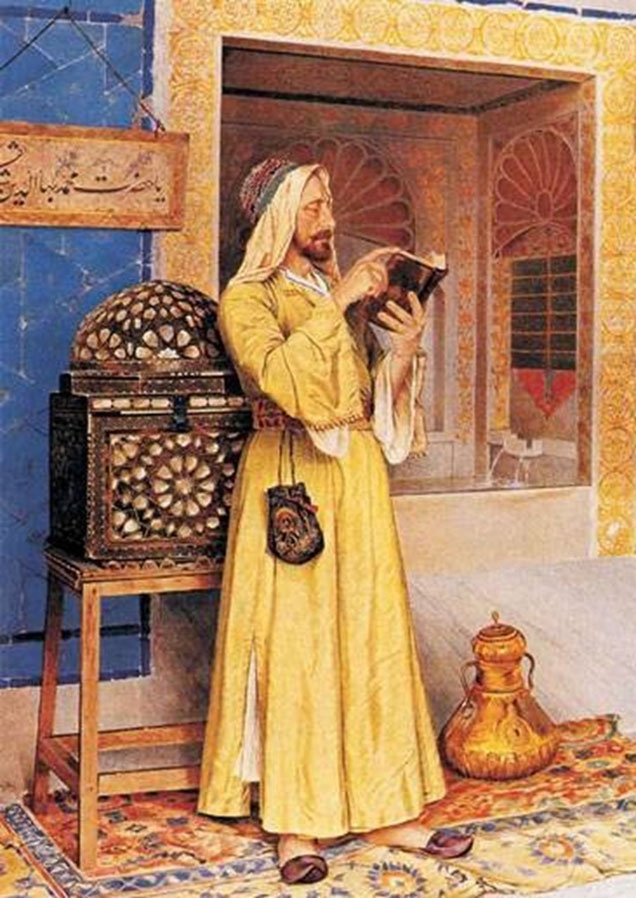 "Fountain of Life"
Bank of America Merrill Lynch Art Conservation Project makes donations to nonprofit museums worldwide to help with the protection of works of art that have historical or cultural significance and are under threat of deterioration. Since the program was implemented in 2010, the company provided funding to over 100 conservation projects in museums in 29 countries.
Among these are two copies of the Magna Carta in the Society of Antiquaries in London; Gustave Courbet's magnificent "L'Atelier du peintre" in the Paris Orsay Museum; Pablo Picasso's "Woman Ironing" in the New York Guggenheim Museum; an octoptych by Kan Eitoku in the Tokyo National Museum that is dated to the 16th century and recognized as a national heritage by the Japanese government, and a collection of paintings by Gerard Sekoto in the Wits Art Museum in Johannesburg.
URARTU JEWELS ALSO UNDER CONSERVATION
In addition to paintings by Osman Hamdi Bey, the program has arranged for the conservation of other works in Turkey. The Urartu Jewels Collection, dated to the 7th to 9th centuries BC and on display in the Istanbul Rezan Has Museum, were conserved as part of the project. The project also extends to the restoration of an 8th-century Umayyad Quran in the Museum of Turkish and Islamic Art in Istanbul.
Source: NTV