Our students, alumni, employees and friends of SU took part in the 38thIstanbul Marathon on Sunday, November 13 for the benefit of the Sabancı University Scholarship Fund.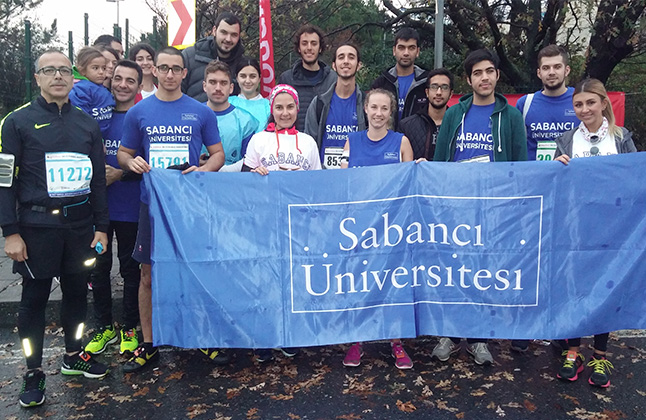 Thanks to their supporting families and friends, they have generated enough fund for the monthly stipend of 2 of our successful students who are in financial need.
We would like to thank all supporters, financial or otherwise, for making a difference and creating awareness.
Our donation campaign still continues, so that we can assist even more students in financial aid.

Click here to donate online.

For wire transfers:
Akbank, Sabancı Üniversitesi Branch
Branch Number: 713
Account Number: 30727
IBAN: TR870004600713888000030727

SU Istanbul Marathon entrants:
| | |
| --- | --- |
| Esin Ceren | Ahıska |
| Waqar | Ahmad |
| Mert Deniz | Aykas |
| Yunus Emre | Bahar |
| Atakan | Başdüzen |
| Aakash | Dharma |
| Hakan Buğra | Erentuğ |
| Koray | Güney |
| İlknur | Güney |
| Ece | Güney |
| Ali Zain | Kara |
| Elif İnci | Karataş |
| Can | Kartoğlu |
| Tahir Furkan | Kızır |
| Melih | Kurtalan |
| Ahsan | Mahmood |
| Mutasham | Oblokulov |
| Büşra | Öz |
| Burak | Özkarakaşlı |
| Parveen | Qureshi |
| Caroline Jane | Ross |
| Atia | Shafique |
| Birden Tuluğ | Siyahi |
| Sevgi | Şairoğlu |
| Fatih | Turhan |
| Buse İlay | Yıldız |

Supporters of Istanbul Marathon entrants for the benefit of the SU Scholarship Fund:
| | |
| --- | --- |
| Merve | Başdemir |
| Ayla | Gürleyen |
| Selin | Kanyas |
| Can | Kartoğlu |
| Gökhan | Sezginer |
| Mehmet Mansur | Sezginer |
| Aysel | Şairoğlu |
| Zeliha | Yaşar Algül |