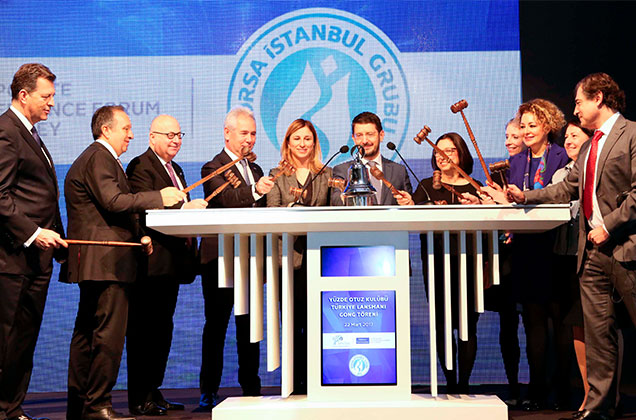 Sabancı University Corporate Governance Forum launches the Turkish program of the 30% Club, an organization dedicated to improve gender balance in the decision-making mechanisms of companies, and to increase the representation of women to at least 30% on company boards and in executive positions.
The Turkish launch of the 30% Club, formed by Presidents and CEOs who view the presence of women in decision mechanisms as a business performance issue, was hosted by Borsa İstanbul on Wednesday, March 22, 2017.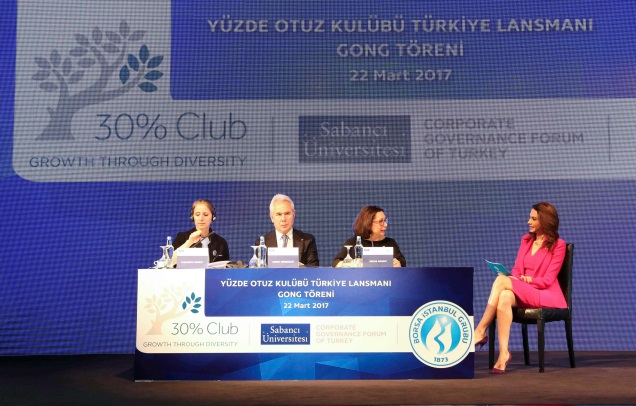 The founding Presidents and CEOs of the Turkish chapter of the Club were present for the ceremony at Borsa İstanbul beginning with the sounding of the gong. Introductory remarks were made by Borsa İstanbul President and CEO Himmet Karadağ. Himmet Karadağ said that paying people their dues regardless of gender, race or any other discriminating factor was one of the key values of Turkey and its people. He added that the notion of justice required this. Himmet Karadağ noted that there were significant shortcomings in this matter, especially in the economic sphere. He explained that only 3 out of 10 women were employed in Turkey. Himmet Karadağ continued, "Women represent 25% of executive management in Turkish companies. This is severe injustice committed against women. At this point, we must recognize the importance of having women on boards and executive management. Having women in decision-making positions will first and foremost change our companies. A more inclusive and egalitarian approach will prevail over all aspects of work, most importantly hiring. That is why we at Borsa İstanbul play an active part in social responsibility initiatives. We will continue our support of projects that promote equal opportunity, and will cooperate with our stakeholders."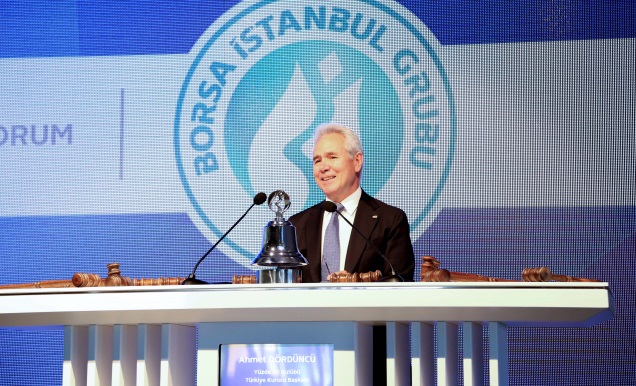 Afterwards, 30% Club Turkey President and Akkök Holding CEO Ahmet Dördüncü gave a speech. Ahmet Cemal Dördüncü said, "Establishing gender equality within the company will elevate the position of the business and make their boards more effective. Scientific data suggests that significant change in the quality of company decisions requires that at least 30% of the decision makers are women. It is also a significant threshold for achieving progress in gender equality. As 30% Club Turkey, we intend to include more men that are in leading positions in Turkey, and undertake other activities to reach our objective of 30%."
A video message by 30% Club Founding Chair and Financial Times' boldest businesswoman of 2016 Helena Morissey was shown. Helena Morissey said that the matter was not about hiring a few women, but about transforming business culture.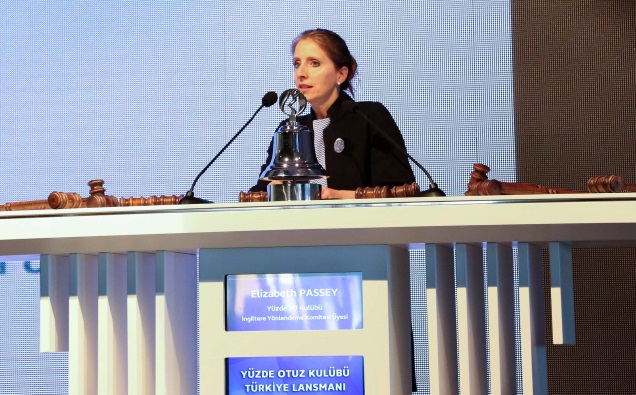 The keynote speaker of the event was 30% Club UK Steering Committee Member and Big Lottery Fund Board of Directors Member Elizabeth Passey. Elizabeth Passey told the story of how the 30% Club was established. Passey said that board of directors chairs and CEOs gathered around 30% club in 2010 to improve gender equality. She said that their initial purpose was to increase the ratio of women members on the boards of FTSE 100 companies to 30% by 2015. Passey explained that part of their efforts focused on succession planning, which would help to maintain this ratio once achieved.
30% Club Turkey Steering Committee Chair and Sabancı University Corporate Governance Forum Director Dr. Melsa Ararat provided information about the project. Melsa Ararat said, "Women need to be in decision-making positions in economically significant companies in order to be able to take part in economic decisions. We have been following the ratio of women on boards and in executive management in public companies since 2012. Despite encouraging regulations by the Capital Markets Board, this ratio is still quite low and progress is sluggish. As with many other issues that require social transformation, we need the creative and dynamic leaders of the business world to act as champions. The members of the 30% Club, who are the CEOs and presidents of the leading companies in Turkey, state that the presence of women in decision-making mechanisms is indispensable for prudent business management. Their attitude will compel others to recognize subconscious predispositions and question them, which will in turn send a positive message to international investors about BIST companies. The 'Fearless Girl' statue, placed in front of Wall Street's iconic bull on March 8th, symbolizes the expectations of the society and investors in terms of women's inclusion in decisions. As in elsewhere in the world, the inclusion of women in decisions in Turkey will be a positive influence on company performance, and help to ensure that decisions are more participatory, inclusive, stakeholder-oriented and egalitarian. The Club's aim is to increase the ratio of women on boards from 14.2% and in executive management from 15% to at least 30% by 2025. Let's hope we reach this objective sooner."
About the 30% Club
Simply put, the 30% Club is a cooperation of presidents and CEOs who seek to improve gender balance at all levels of their organizations. This is backed by the belief that better gender balance will make companies more successful and boards of directors more effective. Diversity as a boost to better decision-making by bodies is consistently finding more scientific support. Research suggests that 30% is the proportion when critical mass is reached – in a group setting, the voices of the minority group become heard in their own right, rather than simply representing the minority. In 2010, the ratio of women on the boards of FTSE 100 companies was 12.5%, and 21 companies had boards entirely composed of men. Today, the ratio is 29% and there are no companies where all board members are men.
The Turkish chapter of the 30% Club was initiated under the guidance of the Sabancı University Corporate Governance Forum, who have been conducting campaigns on the representation of women on boards and supporting their initiative with research since 2010.
About the Sabancı University Corporate Governance Forum
CGFT was established in 2003 as a joint initiative of Turkish Industrialists' and Businessmen's Association (TÜSİAD) and Sabancı University. The Forum focused on establishing Corporate Governance Principles and good governance advocacy in its early years, and then moved on to research and field studies from 2008 onwards. Today, CGFT continues its work as an interdisciplinary academic initiative hosted by the Faculty of Management at Sabancı University, and carries out programs on the improvement of the economic and social effects of companies. The Forum has also been responsible for the Turkish operations of CDP, the world's most prestigious environmental project, since 2009.