Tosun Hoca, the breeze behind the wings of the Sabancı community
Sabancı University Founding President Tosun Terzioğlu was remembered on the first anniversary of his passing in a ceremony attended by the Sabancı community, alumni, students, faculty and administrative members as well as his wife Nuran Terzioğlu, daughter Ayşecan Terzioğlu, Sabancı University Founding Secretary General Hüsnü Paçacıoğlu, Sabancı University Sakıp Sabancı Museum Director Dr. Nazan Ölçer and founding director Fatih Ertimur.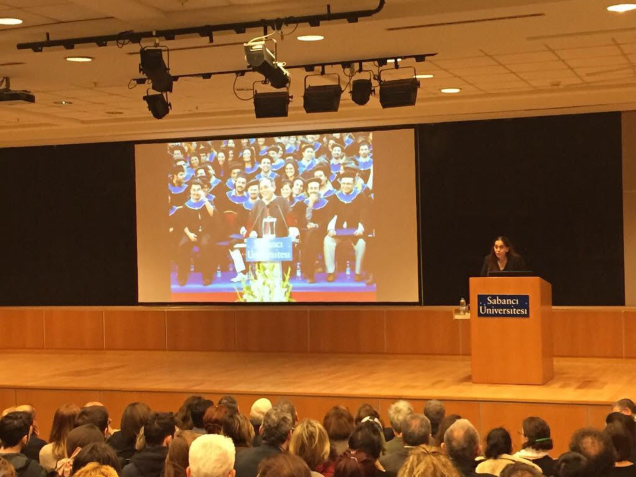 First to speak in the remembrance ceremony was Acting President Ayşe Kadıoğlu. Kadıoğlu said that everyone had memories with Founding President Tosun Terzioğlu all around the campus, and continued:
"Tosun Terzioğlu was greatly influential in the building of the University culture and fundamental principles as our Founding President. The culture was shaped by his personality traits such as humility, ability to listen, and aversion to non-constructive behavior and hierarchy. The importance of academic freedoms enshrined in the Sabancı University institutional culture is exemplary in the history of universities in Turkey. Tosun Hoca played a great role in that. Tosun Hoca was a dedicated supporter of faculty members who chose to be public intellectuals and wrote for audiences beyond the academic. While he valued academic excellence above all, he also appreciated the intellectual's role as a public figure. He was a role model of this attitude. His life is proof that an excellent scientist can also reach out to the society and nature. He worked on every aspect of education in Turkey and wrote articles that are now reference pieces to share his constructive views with everyone at significant political turning points. He stood with unwavering courage to protect the unique organization of our university. Thanks to his courage and dedication, we not only preserved our differentiating aspects, such as being the first university in Turkey to admit students to faculties rather than departments, but also paved the way for other universities to adopt a similar approach. Another great example of his courage happened in 2005, for a conference that was a turning point for Turkey, when he stood behind academics who voiced the importance of understanding the history of this country to avoid repeating its mistakes, went to great efforts to ensure that the conference was indeed held, and did not hesitate to make a speech during the opening. As an academic who has had the privilege of listening to that speech, I remember that he had said 'We are crossing a threshold.' He had emphasized that no harm could come of listening and speaking to each other with the words, 'You will see that those on the other side of the threshold aren't the monsters you thought them to be.'"
Ayşe Kadıoğlu said that the Sabancı community had countless memories with Tosun Terzioğlu –some enlightening, some empowering, and some funny– and concluded, "In my eyes, Tosun Hoca was the breeze behind the wings of the Sabancı community."
Speaking next, Faculty of Arts and Social Sciences member Ayşecan Terzioğlu said that being with the Sabancı University community in remembrance of her father was a touching moment, and that the extended family of distinguished individuals honored his memory well. Ayşecan Terzioğlu also spoke of her father's excitement to build an environment where hierarchy was discarded during the foundational years of Sabancı University.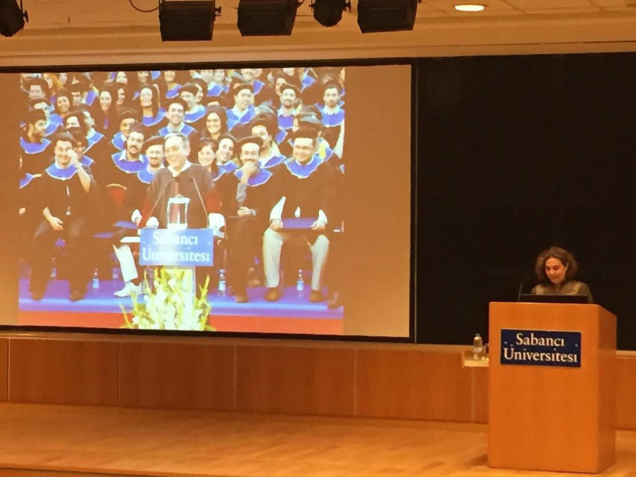 Information was provided about the institutional efforts of Sabancı University to immortalize Tosun Terzioğlu.
Sabancı University Alumni Association President Zeynep Bahar Çelik spoke about the "Tosun Terzioğlu Scholarship Fund" established in the days after Terzioğlu's passing and growing steadily with donations by the alumni.
The two other initiatives approved by the Board of Trustees are the "Tosun Terzioğlu Mathematics Chair" and a "Tosun Terzioğlu Garden" on campus.
Faculty of Engineering and Natural Sciences Dean Yusuf Menceloğlu provided information about the "Tosun Terzioğlu Mathematics Chair".
Tosun Terzioğlu Garden
According to Secretary General Haluk Bal, the Tosun Terzioğlu Garden will be built on a 2500 m2 plot next to the Information Center. Some of his favorite trees and shrubs will be planted in the garden, which will be designed with flowing water and natural materials to have spaces for resting, solitary rumination, or friendly conversations. The garden will be designed and built by Kartepe Peyzaj, known for their dedicated work on campus since the foundation of the university.
Quoting an article edited by Nesrin Balkan in GazeteSU, Secretary General Haluk Bal and Acting President Ayşe Kadıoğlu said:
"Tosun Hoca uses the tree as a metaphor for 'standing on one's own feet' and says: 'Each tree is different. Once its root finds water, on it grows.' But it is important that the root finds the water. When it does, there is no more need to water the tree, and Tosun Hoca believes this is a metaphor for the growing of humans and standing on one's own feet. On 'learning being mutual' Tosun Hoca says: 'Good institutions learn from each and every student, and develop and improve accordingly.'
He continues:
'...education institutions are like olive trees - you know they live long. A tree may be a century old, yet if it has been pruned and groomed correctly, it appears no less healthy than a twenty-year-old tree. Education institutions are like trees, of course. Regardless of how well-built they are, they must always keep an eye out for the outside world, look carefully into themselves, and seek to do everything in new and better ways.' Then he talks about the trees on campus (the sakuras among them), how they talked with university employees and faculty when making decisions about the campus, and says that the campus is 'a garden that I helped build.' When he was told about the concern that students could break the branches of fruit trees when they try to pick fruit that isn't yet ripe, Tosun Hoca responded: 'Let them break it. When I was a child, I was crazy for unripe plums. It's a different pleasure altogether. In the future, they will realize that the tree will give them better apricots if they take care of it.'
He trusted people to find the right way when left to themselves to a certain extent. This is a precious quality for an educator.
His words and thoughts will continue to expand our horizon."
In the closing remarks for the Tosun Terzioğlu memorial ceremony, Acting President Ayşe Kadıoğlu said: "Happiness and creating our own pathways to success was we define it were important to Tosun Hoca. In my view, so would be this garden. It will become a haven for the Sabancı University community to be at peace, listen to their inner selves, and talk to one another."
At the end of the ceremony, books and writings containing thoughts by Tosun Terzioğlu were given to participants as mementos. One was his policy note on higher education coauthored by Üstün Ergüder, Mehmet Şahin and Öktem Vardar and published by the Istanbul Policy Center. The others were his book "Dünyaya Çoklu Bakmak: Atatürk ve Bugün" and the most recent publication about him, an interview with Tosun Terzioğlu written by one of our faculty members, Deniz Kurtoğlu Eken. Copies of his foreword titled "Our Differences and Riches" to the book Ebru edited by Ayşe Gül Altınay were also distributed.