Techdays'17 organized by Sabancı University Student Club ENSO-IEEE Engineering Society, will bring together Turkey's leader companies to talk about technology on 22-23 April.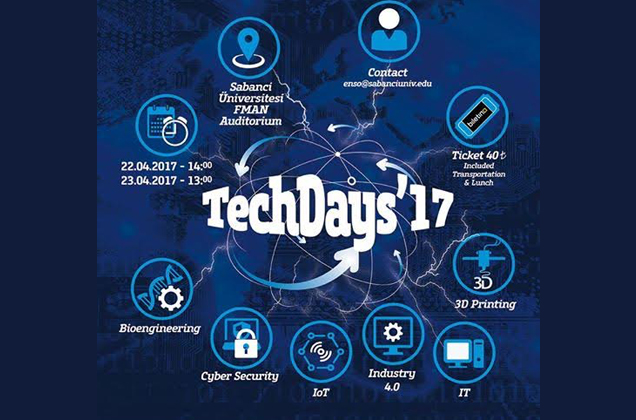 ENSO-IEEE Engineering Society which is one of the Sabancı University Student Clubs is organizing an event: Techdays'17!
Turkey's leader companies will attend and talk about technology in Sabancı University FMAN Auditorium between 22-23 April.
In our event will have Kaspersky, Seven Bridges Genomics, Kuveyt Türk, Şişecam, IBM, Zaxe, Türk Telekom, Microsoft, Yapı Kredi and their themes will be IoT, 3D Printing, Syber Security, Bioengineering, Digital Banking, Industry 4.0, IT, Data Mining, and Mobile Computing.
The event will begin at 14.00 on Saturday and at 12.00 on Sunday. There will be free shuttles from Taksim and Kadıköy.
For registration and tickets: University Center Cafeteria or https://www.biletino.com/event/eventdetail/3518
For detailed information: enso@sabanciuniv.edu
Seven Bridges Genomics' Hackathon
Don't miss TechDays'17 if you want to join Seven Bridges Genomics' Hackathon. Registrations for Hackathon will be available only ones who will attend to Techdays.
For detail info:
Mail: enso@sabanciuniv.edu
Facebook: https://www.facebook.com/ensoieee
Instagram: https://www.instagram.com/ensoieee/
Twitter: https://twitter.com/ensoieee