On-Campus Interview Days 2017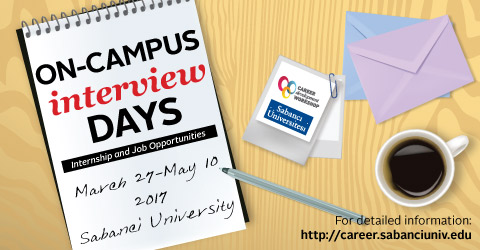 Dear Students,
Career and Internship Office is inviting you to "On-campus Interview Days".
Leader companies and organizations will conduct internship and job interviews on campus between March 27 - May 10.
Please visit our job & internship platform Career Link to apply open positions. Selected candidates will be invited to on-campus interviews.
Prepare for On-campus Interview Days - Join our Seminars ! (Open to all students)
Career Link Orientation (Job & Internship Opportunities Platform - How to apply to On-Campus Interview Day positions)
Date: Monday, March 27
Time:15.40 - 16.30
Place: FASS G022

Interview Techniques
Date: Tuesday, March 28
Time: 14.40 - 15.30
Place: FASS 1103
Open Positions (Apply at Career Link)
Doğuş Otomotiv - Project- based Internship
Sigma Telecom - Summer Internship (Network Operations Center, Marketing, Finance)
Loreal - Management Trainee and WINternship Programme
General Mobile - Summer Internship
MSD İlaç - Summer Internship
Teksan Jeneratör - Summer Internship - Part-time Opportunities
TEİ - Turboshaft Engine Design Engineer
Vestel - Foreign Trade Specialist and Marketing Specialist
ETİ - Marketing (MT) and Industrial Engineer
Teknosa - Future Talent Internship Programme
Nielsen - Summer Internship and Research Analyst* (NEW)
Brisa - General Application
Emlakjet - Full Stack Node Js / Javascript and Scrum Master
BP - To be announced.
HSBC - To be announced.
Huawei - To be announced.
Garanti Bankası - To be announced.
Colgate Palmolive -To be announced
Fiba Holding - To be announced.
More opportunities will be available soon.
Career Office
career@sabanciuniv.edu
career.sabanciuniv.edu
0216 483 9354