Previous winners of the award
In 2005, the Sabancı University Board of Trustees decided to establish an international research award to encourage research on Turkey, create intellectual interest in the role of Turkey in the contemporary world, and to support new and breakthrough research. The Sakıp Sabancı International Research Award was endowed to honor the legacy of the late Sakıp Sabancı, the Honorary Chairman of the Sabancı University Board of Trustees. The award covers fields such as Turkish and Islamic Art and the History, Economy and Sociology of Turkey.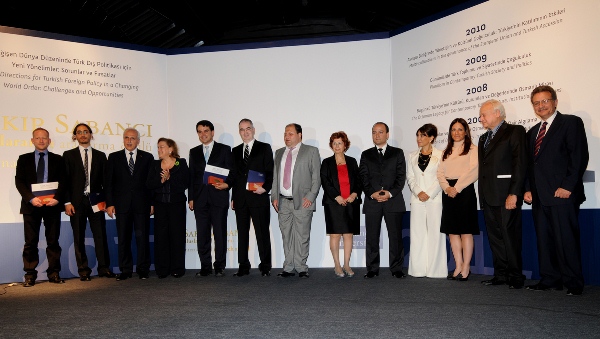 This will be the 7th year of the Sakıp Sabancı International Research Awards. Here is an overview ofd the winning articles and their authors in the previous years.
The topic of the first Research Award in 2006 was "Turkey's New Geopolitical Environment: Policy Challenges and Opportunities for Engagement." A seven-member international jury reviewed all essays. The winner was Lerna K. Yanık from Bilkent University's Department of Political Science for her essay on "Beyond 'Bridges,' 'Crossroads' and 'Buffer Zones': Defining a New International Role for Turkey."
The topic for the 2007 award competition was "Perceptions of the Ottoman Legacy in the Balkans and the Middle East". A nine-member international jury reviewed all essays. The first prize went to Dr. Christine Philliou, from Columbia University's History Department, for her essay on "The Paradox of Perceptions: Interpreting the Ottoman Past through the National Present".
In 2008, the topic of the competition was "The Ottoman Legacy for Contemporary Turkish Culture, Institutions, and Values". Participants studied the reflections of the Ottoman heritage on the culture, institutions and values of contemporary Turkey. The first prize went to Amy Singer, professor of Ottoman History in the Department of Middle Eastern and African History at Tel Aviv University, with her essay, "The Persistence of Philanthropy".
The topic for 2009 was "Pluralism in Contemporary Turkish Society and Politics" with the first prize going to Kabir Tambar of Vermont University with his essay titled "Paradoxes of Pluralism: Ritual Aesthetics and the Alevi Revival in Turkey".
In 2010, the award was given in the field of "European Governance and Cultural Diversity: The Impact of Turkey's Accession," and the winner was Delaware University postgraduate student Juliette Tolay with her essay titled "Turkey's Other Multicultural Debate: Lessons for the EU".
The theme for 2011 was "New Directions for Turkish Foreign Policy in a Changing World: Issues and Opportunities" and the winner was Boğaziçi University Professor Kemal Kirişci with his paper titled "Turkey's Engagement with Its Neighborhood: A "Synthetic" and Multidimensional Look at Turkey's Foreign Policy Transformation."


Last Updated: 12.06.2012 13:05:38