The Sabancı University Center of Excellence in Finance (CEF) sponsored by Akbank held a panel discussion of "A Review of the Economy in 2016 and Outlook for 2017".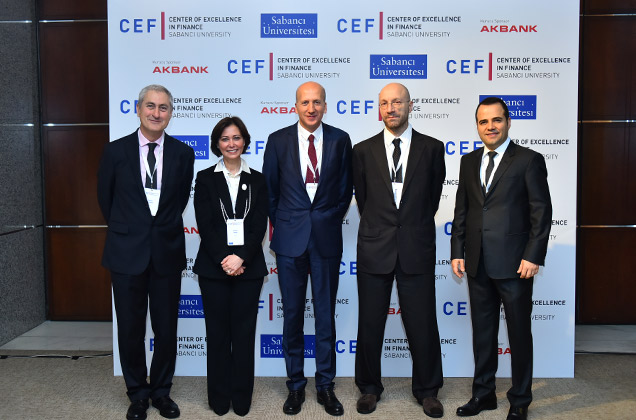 The Sabancı University Center of Excellence in Finance (CEF) established with the founding sponsorship of Akbank to achieve excellence in finance held a panel discussion on Friday, December 23, 2016 at the Sabancı Center.
Titled "A Review of the Economy in 2016 and Outlook for 2017", the panel was moderated by Akbank Chief Economist Fatma Melek. Panelists were Central Bank Chief Economist Hakan Kara, Yapı Kredi Bank Chief Economist Cevdet Akçay and İş Yatırım Research Director Serhat Gürleyen.
The first part of the panel focused on the global economic outlook and Turkey. It was stated that risk mitigation was still in effect particularly in developed companies, causing prolonged reluctance in investment decisions, which, coupled with the fall in commodity prices, dealt a significant blow to the global trade of investment goods and raw materials.
Panelists explained that the instability in economic policies and the rise of expansionist policies led to a rise in long-term interests in the US and affected emerging countries due to unpredictable capital movements, interest and currency rates. The potential rise in risk-free interest rates may bring a tightening of financial conditions in developing countries.
The panelists also discussed the steps to be taken to boost private investments and the investment environment in Turkey, possible changes in foreign trade due to global as well as local/industry dynamics, to raise the value of Turkish export items, and the sources of growth in savings.
In the second part of the panel, Central Bank Chief Economist Hakan Kara said that despite shocks of various intensities during the inflation targeting period, inflation was kept limited to single-digit figures, but price stability was yet to be achieved. Kara said that recent experience showed that collaborated efforts were needed to ensure permanent price stability at a lower cost. Hakan Kara concluded, "The Central Bank will work in close cooperation with all stakeholders to promote awareness of structural issues that surface in fighting inflation, and support the technical infrastructure needed to overcome this problem."
In the third section, panelists discussed growth projections and possible growth composition for Turkey in 2017, and the key macroeconomic risk parameters that required monitoring.
İş Yatırım Research Director Serhat Gürleyen stated their expectation that the Turkish economy would grow by 3% in 2017, mostly fueled by internal demand despite the global rise in dollar and interest rates. Gürleyen said that the key driver of growth would be bank loans and that banks were resilient enough to carry Turkey into the future with their strong capital and robust balance sheets. Serhat Gürleyen explained that the call of the President of the Republic to use the lira in savings helped to reduce the weight of the dollar in savings accounts, continuing "However, companies in sectors other than finance have 210 billion dollars of open positions and portfolio exits are common, so there is upwards pressure on the dollar." Serhat Gürleyen said, "Due to the devaluation of the lira, rise in oil prices and the pressure of a 30% increase in minimum wage on collective bargaining agreements, we estimate that inflation in 2017 will increase by 150 base points to 9.0%."