The winners of the fourth Hakan Orbay Research Awards given by the Sabancı University School of Management in honor of faculty member Hakan Orbay who passed away in 2011 were chosen. Winners received their prizes at a ceremony held on December 20, 2017 at SoM 1073.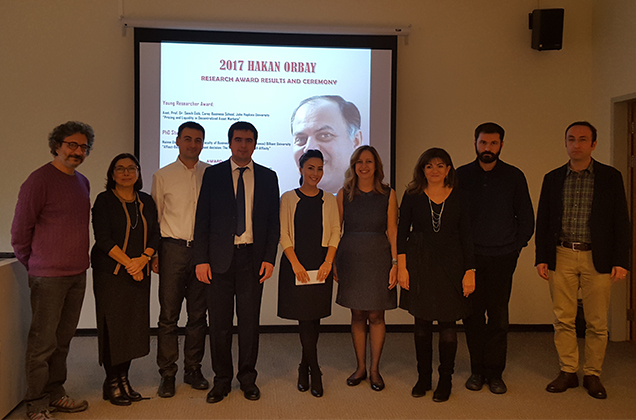 Introductory remarks to the ceremony were delivered by Sabancı University School of Management Dean Professor Füsun Ülengin. Hakan Orbay's wife Benan Zeki Orbay also spoke at the ceremony, saying, "This award makes me feel like our family is growing every day."
The recipients of the Hakan Orbay Research Awards were:
Assistant Professor Semih Üslü from Carey Business School, John Hopkins University with his study "Pricing and Liquidity in Decentralized Asset Markets" in the Young Researcher Category,
Bilkent University Faculty of Management PhD Candidate Naime Usul for her work titled "Affect-Based Stock Investment Decision: The Role of Affective Self-Affinity".
The ceremony was followed by lectures on the winning articles.
The jury panel this year consisted of Benan Zeki Orbay from Istanbul Bilgi University, Sabancı University faculty Aziz Şimşir, Eren İnci, İzak Atiyas, Melsa Ararat, Nakiye Boyacıgiller and Yiğit Atılgan, and Koray Deniz Şimşek from Crummer Graduate School of Business, Rollins College.
About Hakan Orbay:
Hakan Orbay finished the Ankara High School of Science in 1979 and received a bachelor's degree in Electrical Engineering and Physics from Boğaziçi University between 1979 and 1983. He completed a master's in Electrical Engineering at the University of Calgary in 1986, after which he returned to Turkey and worked in information technologies in the banking sector from 1988 to 1991. Having never lost his interest in academic studies, Orbay went back to the US in 1991 for a PhD in Economics in the Stanford University Graduate School of Business, which he completed in 1995. Orbay was a member of Koç University faculty from 1996 to 1999, when he joined Sabancı University as one of the founding faculty members. He continued his endeavors in the School of Management until his passing in 2011.