International Energy Agency (IEA) Executive Director and Sabancı University Istanbul International Center for Energy and Climate (IICEC) Honorary Chairman Dr. Fatih Birol re-elected as IEA Executive Director.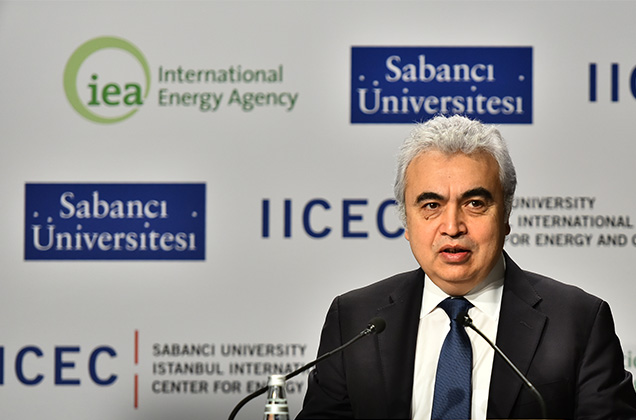 Dr. Fatih Birol has been re-elected as Executive Director by the Governing Board of the IEA on 22 January 2018, at their last Ministerial Meeting. This unusual unanimous decision extended his mandate by another four years. Dr. Birol was the first person who was initially elected by unanimous vote and supported by all 29 member countries, in IEA's 44-year history. This re-election of Dr. Birol only two and a half years into his first term is also historic, as no previous IEA Executive Director was given a second term mandate so quickly. This reflects the IEA Ministers' high confidence in Dr. Birol and great satisfaction with the results that Dr. Birol has already achieved at the IEA. Dr. Birol's leadership accelerated the implementation of the "modernization strategy". This strategy has been based on "opening the doors of IEA" to emerging economies; widening energy security beyond oil to natural gas and electricity; and turning the IEA into a global clean energy hub.
"While I am proud that our members have reaffirmed their confidence in me, I am aware that the decision would not have been reached without the strategic direction and guidance the board has given me and the hard work and dedication of IEA colleagues," said Dr. Birol.
Also on his Twitter account Dr. Birol stated "Humbled that our member countries have just entrusted me to a second term as IEA Executive Director. Looking forward to working with all partners to bring the IEA to new heights."
About Dr. Fatih Birol
Prior to joining the IEA in 1995, Dr. Birol worked for six years as an oil market analyst at the Organization
of the Petroleum Exporting Countries (OPEC) in Vienna. Dr. Fatih Birol received numerous awards for his
contributions to energy world. Dr. Birol has been named by Forbes Magazine among the most powerful people in terms of influence on the world's energy scene.
Dr. Birol received the Order of the Rising Sun from the Japanese Emperor in 2014, the State Honor Award
from the Iraqi Government in 2013, the Order of the Polar Star from Sweden and the Order of Merit of the Republic from the Italian Government in 2012. In 2009, he was awarded with the German Federal Cross of Merit. Dr. Birol has also been decorated by the government of Austria, Golden Honor Medal in 2007 and by France, Chevalier dans l' ordre des Palmes Academiques in 2006. Prior to these, Dr. Birol received awards from the Netherlands, Poland, Turkey in 2005, the United States in 2004 and the Russian Academy of Sciences in 2002.