An article on HarvestPlus-HarvestZinc project published in Turkey's #1 newspaper Hurriyet on February 7, 2018
Prof. Ismail Cakmak has been travelling for 9 years, from country to country, field to field, to train farmers to tackle hidden hunger, which affects 2 billion people worldwide.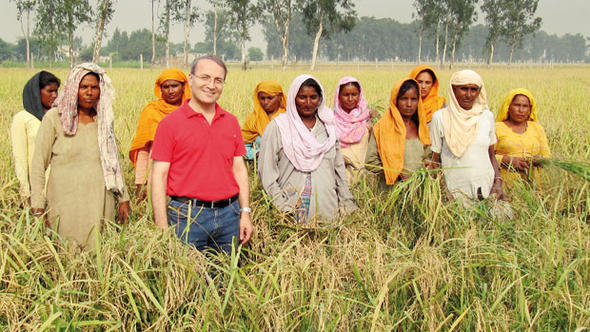 Rice field in India
Prof. Ismail Cakmak, a faculty member of the Faculty of Engineering and Natural Sciences at Sabanci University, has been travelling from country to country, field to field, for 9 years, to fight hidden hunger. The major donour to this fight against hidden hunger is the Bill and Melinda Gates Foundation. As a consequence of the modern varieties that spread with the green revolution in agriculture, agricultural productivity increased significantly, although the proteins and micronutrient content of the food we eat has diminished. There are still 815 million people facing hunger, i.e. do not have access to food, in the world. 2 billion people suffer from hidden hunger, even if they have access to food.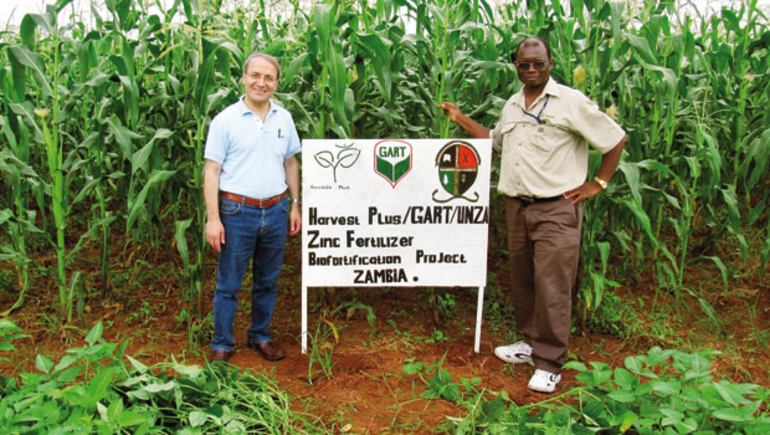 Maize field in Zambia
MICRONUTRIENT DEFICIENT
Hidden hunger occurs because the foods consumed by these people are deficient with respect to micronutrients which are essential for a healthy life. CSOs, universities, scientists and fertilizer companies collaborate to tackle hidden hunger, which affects women and children the most. Micronutrient deficiency affects children's cognitive and physical development, and immune systems of all. HarvestPlus one of the global projects fighting against hidden hunger. HarvestZinc project is under the umbrella of HarvestPlus and is led by Sabanci University. The aim of HarvestZinc project is to biofortify staple crops with zinc. Sabanci University has received USD5.5 million for this project up until now.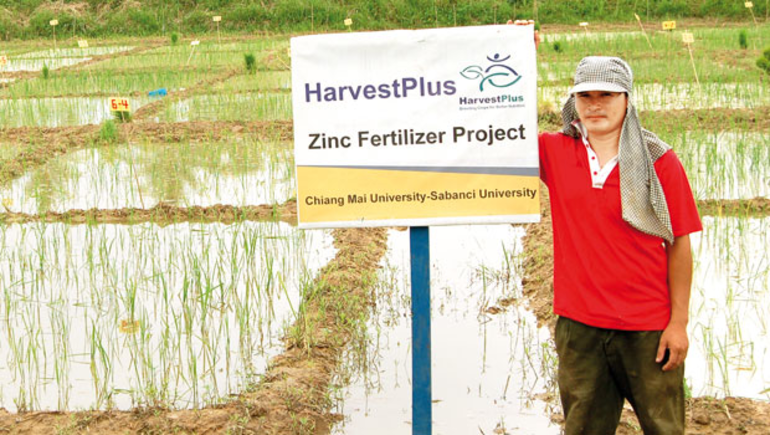 Rice field in Thailand
BIOFORTIFICATION IN THE FIELD
To date Prof. Ismail Cakmak has given seminars in about 45 countries on this research topic. The national and international projects he has led, have received over USD16 million in funding. Prof. Ismail Cakmak, the winner of the the 2016 World Academy of Sciences Prize in Agricultural Sciences, said that; "In developing countries, specifically in rural areas, people meet a huge part of their daily energy needs from staple foods. Therefore a simple solution for tackling hidden hunger is to biofortify in the field the staple crops consumed every day. This is achieved via breeding and fertilization. We are trying to teach this by reaching out to the farmers. In the project countries, this process is supported through farmer subsidies. It is more cost-effective to fortify staple crops, than to tackle deficiencies through supplements. In developing countries, 5% of the domestic income is lost to hidden hunger. This is not only a health issue, but also an economic development issue".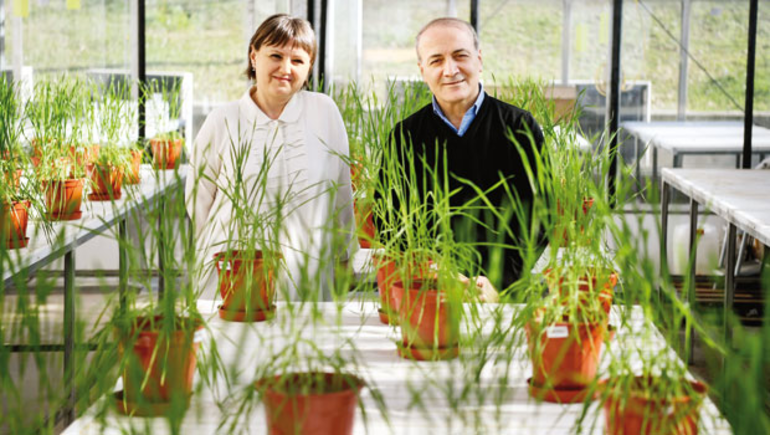 Hurriyet Journalist Mesude Erşan and Ismail Çakmak
Farmer pays USD15 for 1 hectare
Prof, Ismail Cakmak said that the process of micronutrient fortification via fertilization costs the farmer 15 dollars for 1 hectare of land. He stated that "This is not a high cost and is covered by all means by the yield increase. Farmers are incentivized when they realize that the micronutrients in their grains are valued". The projects differ across countries, based on the most commonly consumed staple of each country. For example in the context of the project conducted in Zambia, farmers are trained to fortify maize with zinc during planting.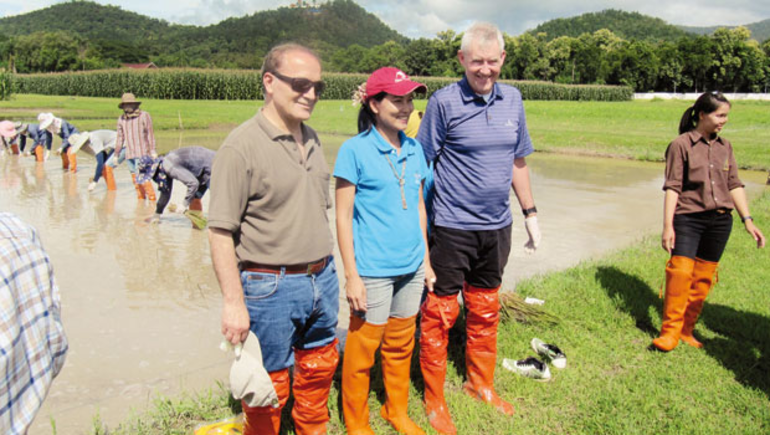 Planting rice in Thailand
TURKEY'S SOIL IS DEFICIENT TOO
Prof. Ismail Cakmak reminded that the iodine and other micronutrients levels are low in crops in Turkey, and that these levels need to be increased. He explained as follows, "Wheat consumption in Turkey is very high Soils in Turkey are micronutrient deficient. Hence, fighting hidden hunger should be among the top priorities. We never discuss hidden hunger in Turkey, but we should discuss it at least as much as we discuss obesity".
WE FOCUS ON INCREASING IRON AND ZINC
Prof. Ismail Cakmak has been implementing the HarvestZinc Project in 12 countries, including Turkey, over 4 phases. Prof. Ismail Cakmak stated that "in the forthcoming three-year phase of the project, we will continue to conduct research activities in China, Thailand, India, Pakistan, Mozambique, Zambia, Zimbabwe, Brazil, Mexico and Turkey. We have partnerships in the universities in these countries. We focus on increasing iron, zinc, iodine and selenium levels in commonly consumed staple crops in these countries.".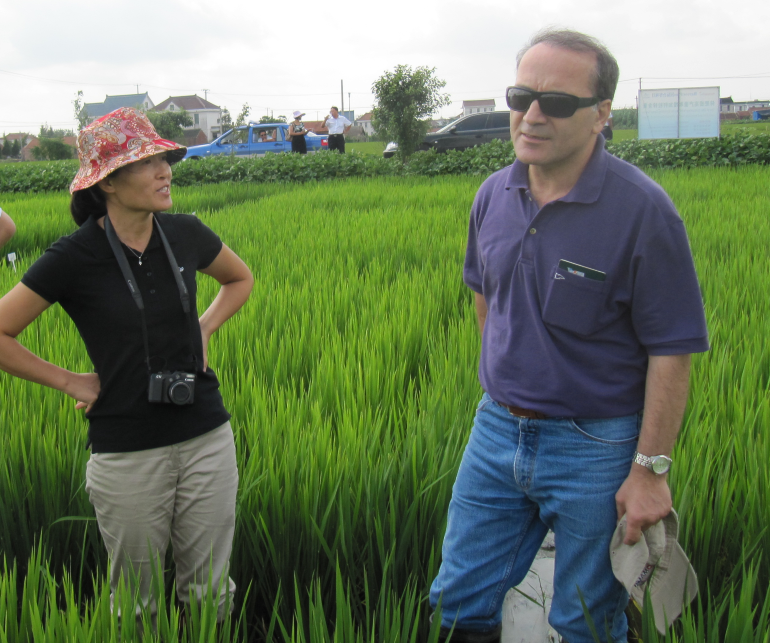 Rice field in China
Resource: //www.hurriyet.com.tr/dunyanin-gizli-aclikla-savasinda-tahilin-efendisi-40733534