Sabancı University Istanbul International Center for Energy and Climate (IICEC), which promotes exchange of ideas and developments in energy and climate areas, continues to host important figures from these fields. Robert McNally gave a seminar titled as "The Return of Boom Bust Oil Prices" at Sabancı University Minerva Palas in Karaköy. McNally, consultant and President of the Washington-based energy market, policy, and geopolitical consulting firm Rapidan Energy Group, previously served as Senior Director for International Energy at the White House National Security Council.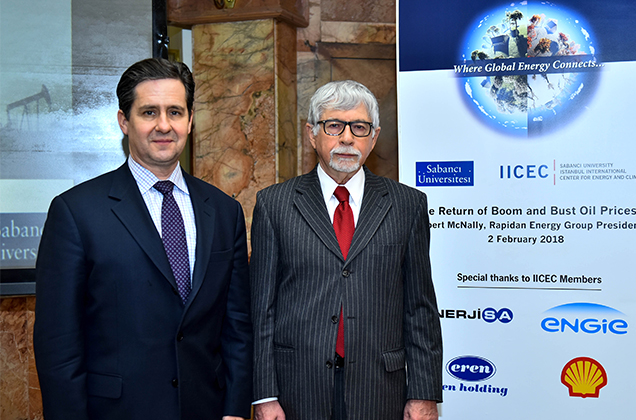 "Price stabilization in oil is vital"
McNally began his presentation by saying that oil is the lifeblood of the modern world, and he added that all economic dynamics are in fact dependent on oil prices, i.e., fluctuations in oil prices caused important problems for growth indicators, central banks, air transport, military planning, etc.
McNally said that these fluctuations in oil prices are in the nature of oil and he expects unusual price fluctuations to continue, hence we must be prepared for volatility. McNally explained that there has been need to take measures against price fluctuations since the 1880s. The Rockefeller family's, the Texas Railway Commission's and the OPEC's role as price regulators, were highlighted. McNally noted that the United States quitted its role as a regulator in 1972, and that the prices fell sharply with the oil Saudi Arabia launched on the market in 1986. The fluctuations after 2006 were devastating for economies after the relatively routine price trend from 1986 to 2006.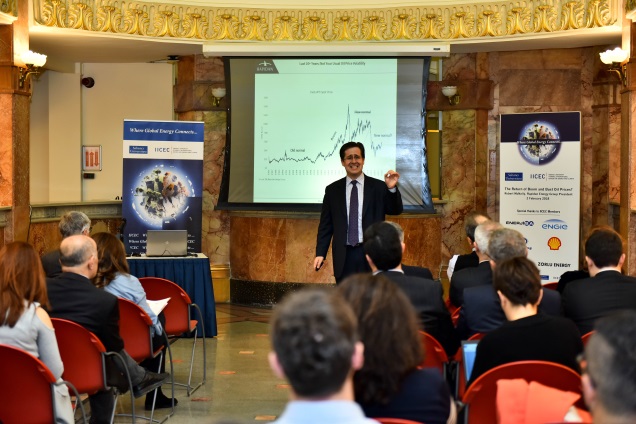 "Today's fluctuations are unusual; be prepared for $20 - $150 "
Indicating that the fluctuations in today's oil prices are not normal compared to previous periods, McNally said:
"Everyone is wondering what the 'new normal' is. Today's fluctuations are not normal. There are various expectations. We should not be deceived by the stability of oil prices in the last 3 years. In terms of delicate balances of the market, it is necessary to be prepared for a new normal range of $20 to $150."
"Demand for petroleum-powered vehicles is high despite green policy"
McNally explains that the use of electric vehicles is going to increase, but this trend will not reduce the demand for oil. "States are setting very sharp targets that emphasize the use of electric vehicles and are taking steps to implement those targets. On the other hand, in very fast developing economies such as China and Central Asian countries, we see that oil-powered big vehicles are preferred over electric cars, even if 'green policies' are emphasized. So, as these countries grow, petroleum demand increases. "
Referring to the International Energy Agency's forecast of oil demand between 2015 and 2040, McNally noted that OECD countries are on a stable demand line, but the remaining countries have a growing demand. In conclusion he finished his presentation by stating: "I have doubts that we will use oil less."
After Mr. McNally's informative presentation, a Q&A session leading to fruitful discussions was held. Energy industry executives, high level representatives from energy related associations and Energy Technologies and Management (ETM) MSc students attended the event, and a cocktail followed the talk.