Applications are now open for the Hakan Orbay Research Awards, given by the Sabancı University School of Management in honor of faculty member Hakan Orbay who passed away in 2011. Submissions for the fifth Awards will be accepted until June 28, 2018. Winners will be announced on September 14, 2018.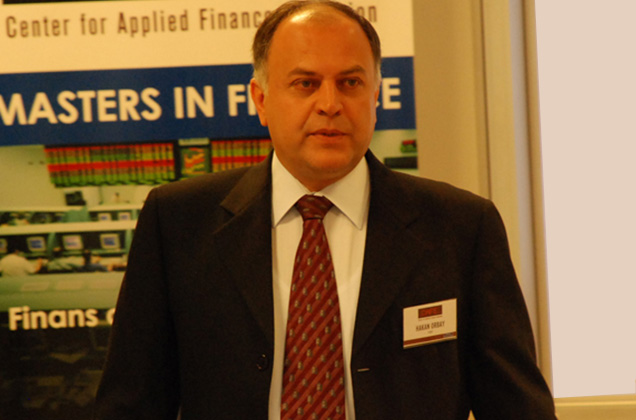 The awards entail a "Young Researcher Award" of 5000 TL and a "Doctorate Student Award" of 3000 TL for one winner each.
The Hakan Orbay Research Awards seek to support original studies by young researchers in finance and microeconomics. Interested applicants can submit their work and a one-page resume to orbayaward@sabanciuniv.edu.
The jury panel this year consists of Benan Zeki Orbay from Istanbul Bilgi University, Sabancı University faculty Aziz Şimşir, Eren İnci, İzak Atiyas, Melsa Ararat, Nakiye Boyacıgiller and Yiğit Atılgan, and Koray Deniz Şimşek from Crummer Graduate School of Business, Rollins College.
The winners of last year's Hakan Orbay Research Awards were Assistant Professor Semih Üslü from Carey Business School, John Hopkins University with his paper "Pricing and Liquidity in Decentralized Asset Markets" in the Young Researchers Category, and Bilkent University Business School PhD Candidate Naime Usul with her paper "Affect-Based Stock Investment decision: The Role of Affective Self-Affinity" in the Doctorate Students Category.
Application Requirements:
The Awards are open to all theoretical and applied studies in finance and microeconomics, but preference will be given to theoretical and/or applied studies in company theory, contract and incentive theory, company financing and corporate governance, as well as those seeking to understand developing markets.
The Young Researchers Category is open to PhD-holding scholars who are younger than 40 years of age as of the application deadline. Coauthored papers may be submitted provided that the applicant meets the Award criteria.
The Doctorate Students Category is open to all applicants who are PhD candidates at the time of submission.
Submissions must include the resume of the applying author. The paper must have an abstract on the first page. Papers and resumes may be submitted in Turkish or English. Submissions are to be sent to the email address below in Word or PDF formats.
Only original papers that have not been accepted for publication at the time of submission will be considered. Papers that have been submitted to a journal for consideration are not precluded from the Awards.
Winners are expected to state that they have won this Award in the published version of their papers.
In the event that the Doctorate Students Category does not receive any eligible submissions, the Jury is entitled to award a second prize in the Young Researchers Category.
About Hakan Orbay:
Hakan Orbay finished the Ankara High School of Science in 1979 and received a bachelor's degree in Electrical Engineering and Physics from Boğaziçi University between 1979 and 1983. He completed a master's in Electrical Engineering at the University of Calgary in 1986, after which he returned to Turkey and worked in information technologies in the banking sector from 1988 to 1991. Having never lost his interest in academic studies, Orbay went back to the US in 1991 for a PhD in Economics in the Stanford University Graduate School of Business, which he completed in 1995. Orbay was a member of Koç University faculty from 1996 to 1999, when he joined Sabancı University as one of the founding faculty members. He continued his endeavors in the School of Management until his passing in 2011.