Sabancı University Technology-Based Startup Acceleration Center SUCOOL implements international programs fır early-stage entrepreneurs and growing startups in energy and clean technologies.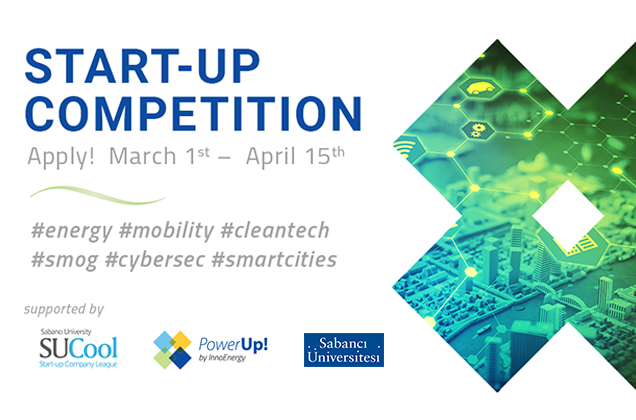 The chance to be part of a global business network
SUCool started a partnership with the Netherlands-based Innoenergy to provide assistance ot early-stage entrepreneurs and startups ready for global growth in the Energy and Clean Technologies sectors in 2018. In association with Innoenergy, SUCool will organize global programs in 2018, beginning with the PRIMER Acceleration Program for entrepreneurs with business ideas on early-stage energy, clean environment technologies, intelligent transportation, sustainability, and mobility.
As part of the PRIMER program, entrepreneurs will have access to theoretical and applied trainings delivered by energy professionals, mentorship and advisory services offered by executives of energy companies, and opportunities to access initial customers, attract foreign investment, and join a global business network.
Chance to represent Turkey in the Global Finals of the PowerUp Competition
Another program to be implemented by SUCool will be the international startup contest called "PowerUp – Startup Competition" that has been successfully implemented in Europe for the past three years. Seven early-stage energy startups to be chosen among applicants from all over Turkey will attend a two-day camp on May 5 and 6, 2018, followed by the National Finals on May 10. The winner of the National Finals will compete in the Global Finals to be held in Czechia in June. The best startups in the Global Finals will win a cash prize of 35,000 Euros and a potential investment of 150,000 Euros. PowerUp Turkey applications will remain open until April 15, 2018.
To apply: http://powerup.innoenergy.com/