Sabancı University Start-up Company League SUCOOL partnered with Workinlot to implement an online incubation program called pre-SUCOOL. The program was announced at a meetup on Monday, June 4 at ImpactHub Istanbul.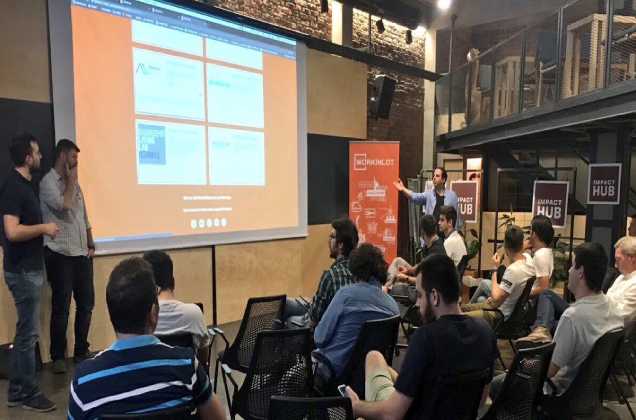 Topics discussed at the meetup included "How to find business ideas that may turn into business concepts?","Creative thinking or copying successful projects?", "What benefits will the digital incubation program by SUCOOL and Workinlot offer entrepreneurs? and "Other needs while building and growing a startup".
Speakers were Workinlot founders Baran Korkut and Atilla Erel, and Sabancı University SUCOOL Director Naci Kahraman.
About pre-SUCOOL:
pre-SUCOOL is a free and online training program prepared by Sabancı University Start-up Company League and Workinlot, and consists entirely of digital content. The program enables prospective entrepreneurs with business ideas to gain the key competencies they will need to offer the right product to the right market using the most appropriate business model and team.
pre-SUCOOL training consists of 8 modules. At the end of the training, entrepreneurs are expected to have received their first customer letter of intent or signed the first customer contract, and have prepared a business model canvas, competition analysis, go-to-market strategy, roadmap, and investor presentation.
Face-to-face meetings and workshops in Istanbul will also be held as part of the program. Entrepreneurs will receive mentorship from SUCool and Workinlot teams to overcome the difficulties they face in implementing their business ideas and to expand their knowledge in areas where they are lacking.
The Workinlot platform where pre-SUCOOL resides is composed of creative individuals who develop solutions and generate ideas. Entrepreneurs may use the platform to find the idea they want to work on, or join a team and find teammates.
Entrepreneurs who complete the pre-SUCOOL program will have the opportunity to join the SUCOOL network, be the first to learn about SUCOOL programs, and receive special offers for program applications.