Sabancı University students Alper Tellioğlu and Efe Nadir won the Virtual Innovation Bootcamp held by DuPont for the first time in Turkey. Alper Tellioğlu and Efe Nadir will visit DuPont's Innovation Center in Geneva and meet with DuPont experts.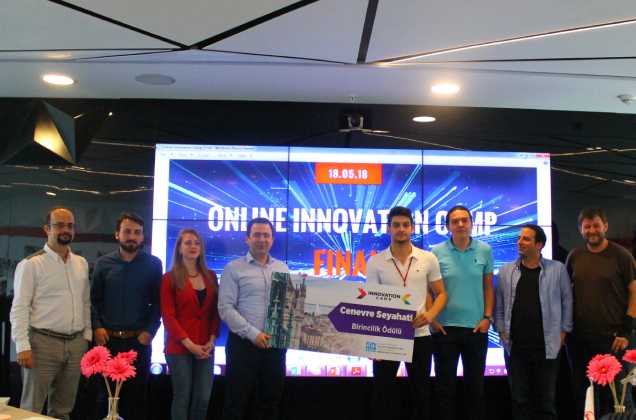 Sabancı University Industrial Engineering student Alper Tellioğlu and Computer Science and Engineering student Efe Nadir left behind 46 other projects from all over Turkey and placed first in Turkey's inaugural virtual innovation bootcamp.
Our students won first prize with their project titled "ID Authentication with Heartbeat", and will visit the DuPont Innovation Center in Geneva.
Sabancı University students developed their project in response to the quest of technology companies for novel authentication solutions. The team showed that authentication using DuPont's intelligent wearable technology DuPont™ Intexar™ would be faster and more secure. The unique heartbeat patterns of each individual can be accessed via a bracelet made using the DuPont™ Intexar™ technology, and by making heartbeat a security step, all keys and passwords can be things of the past.
Alper Tellioğlu and Efe Nadir said that although there were various means of authentication available, many had unresolved issues. The team's motive for entering the competition was to propose a solution. Tellioğlu and Nadir said that they focused on ECG (Electrocardiogram), which has a unique pattern for each individual, as a means of authentication, and by using DuPont's intelligent wearable technology DuPont™ Intexar™, they devised the fastest and most secure way to use parameters such as rhythm, frequency, dispersion and reaction. Alper Tellioğlu and Efe
Nadir said that they were proud to be the winners of Turkey's first Virtual Innovation Bootcamp.
47 projects took part in the innovation bootcamp held by Workinlot with the sponsorship of DuPont Innovation Center and organized by Boğaziçi University Management Club, and 12 projects competed in the finals.