2018-2019 Fall Semester Dormitory Applications
Details of application for undergraduate and graduate students who wish to use dormitory facilities in the 2018-2019 Academic Year are given below.
Please first log on to the student information system (bannerweb.sabanciuniv.edu) to access the application form.
Applications will begin on 16.07.2018 and end on 26.08.2018 at 23:59.
Dormitory applications just can be make on the online system and placement results of all students applying online will be announced on the web on 07.09.2018 at 10:00.
When selecting roommates, please ensure that the roommate you have selected also selects you. Otherwise the system will disregard one-sided selections and may assign you to different rooms.
You can update and even cancel your online application until the deadline.
In the event that enrolled students who are assigned a room wish to terminate their dormitory occupancy without a valid reason, they will not be able to access their online dormitory application form for coming semester.
The documents which required for dormitory application are have to be upload to bannerweb system until application deadline. Applications with missing or wrong document will not approve and don't consider for placement.
Dormitory fee payment information:
The dormitory fees for our undergraduate and graduate students in the first semester of the 2018-2019 Academic Year are listed below for as a reminder and the payment required to be paid to between the dates 07.09.2018 and 14.09.2018 under this system.
Dormitory Fees (September 2018- June 2019) / Per person (VAT included)
Undergraduates 1. Semester 2. Semester Total Annual Fee
4 person rooms 4.250 TL 4.250 TL 8.500 TL
2 person rooms 5.625 TL 5.625 TL 11.250 TL
Graduates 1. Semester 2. Semester Total Annual Fee
2 person rooms 5.625 TL 5.625 TL 11.250 TL
1 person rooms 7.500 TL 7.500 TL 15.000 TL
Studio apartment 7.750 TL 7.750 TL 15.500 TL
Deposit 1.500 TL (Undergaduate&Graduate, paid once when entering.)
REQUIRED DOCUMENTS FOR DORMITORY APPLICATION
Pursuant to the Private Student Housing Directive issued by the Ministry of Education's General Directorate of Private Education Institutions on May 6, 2017, students who will reside in housing facilities are required to submit the following documents when completing their registration:
Photocopy of identification card for Turkish nationals,
Certificate showing that the student is currently enrolled,
Physician's report stating that there are no medical conditions preventing the student from staying in housing facilities,
A passport-sized photo,
Certificate of criminal record,
Study permit for foreign nationals,
Certificate of residence,
Public records registry extract.
The online housing application form has been updated due to the requirement for the above documents.
A screenshot of the page added to the application form is provided below.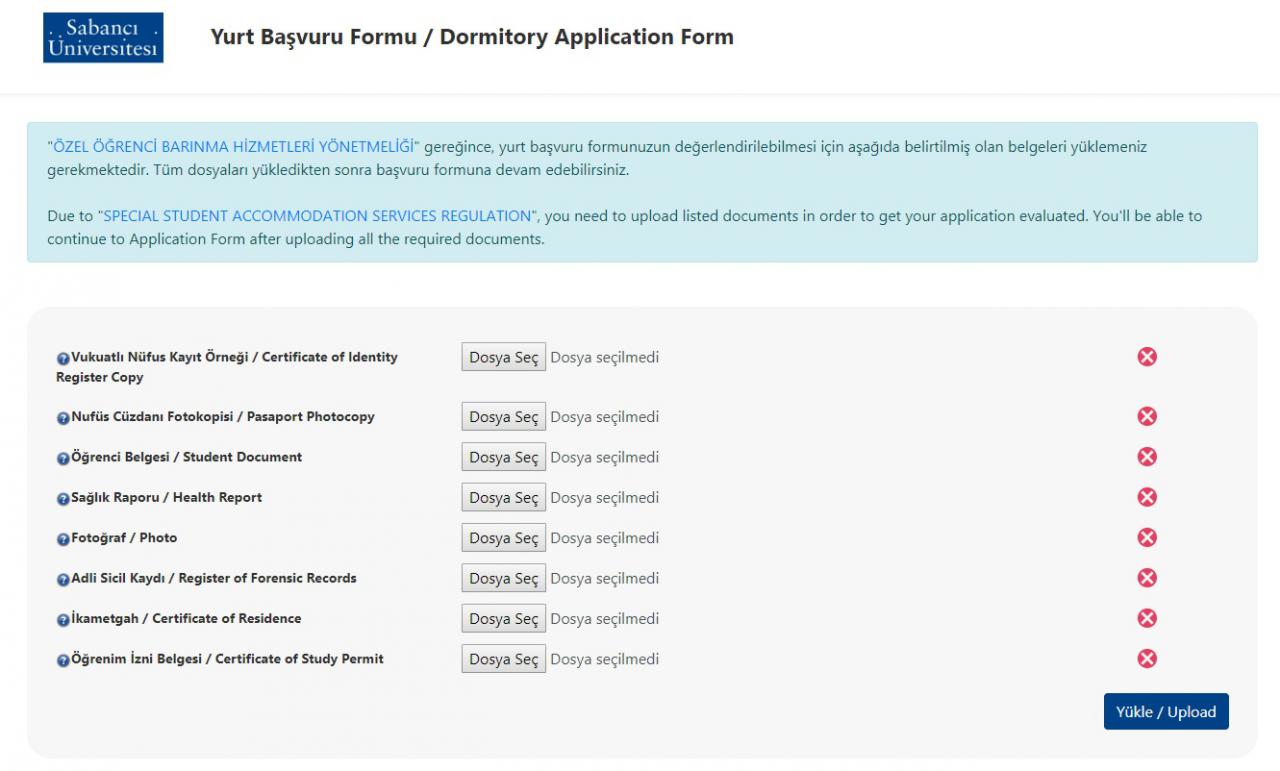 Documents uploaded to the system will be checked by Housing Services associates, who will approve the application if all documents are in order, and complete the procedure. If the application is refused due to missing documents or incomplete uploads, you will be required to check your documents and repeat your application.
Thank you for your cooperation.
Accommodation Service Unit / OTS