Sabancı University, named Turkey's most entrepreneurial and innovative, becomes the official implementer of the TÜBİTAK 1512 BİGG Program Phase 1 Activities with the "BiGGInner" project.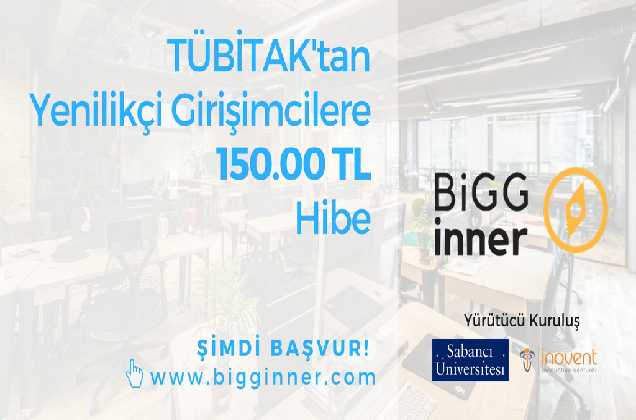 Sabancı University Startup Company League (SUCool) and İnovent A.Ş. became one of the official implementers of the TÜBİTAK 1512 BİGG Program Phase 1 Activities, which entail up to TL 150,000 in grants for innovative and technology-based ventures, with their "BiGGInner" project.
Sabancı University SUCool Director Naci KAHRAMAN explained that the BiGGInner Project would provide training, mentorship, pre-incubation, investor and client presentations, and prototype development and laboratory facilities to technology-based entrepreneurs in Istanbul and the near region, particularly in the energy and clean technologies, IoT and digital technologies, medical and biotechnologies, and smart transport and smart urban applications verticals.
Naci KAHRAMAN said that by becoming an official implementer of the TÜBİTAK 1512 BİGG Program Phase 1 Activities, the BiGGInner Project for "Roadmap to Innovative Entrepreneurs" would provide all support entrepreneurs need from business idea to product and international markets, and that the TÜBİTAK grant of up to TL 150,000 would further accelerate entrepreneurs.
The BiGGInner Project aims to reach more than 500 entrepreneurs and provide pre-incubation services to nearly 300 over the next 2 years.
The BiGGInner Project also includes a number of stakeholders with academic and industry experience in the specified verticals. The current supporters of the BiGGInner Project include Sabancı University Nanotechnology Research and Application Center (SUNUM), Okan University, KORDSA, Farplas, BIC Angel Investments, Diffusion Capital Partners (DCP), Galata Angel Investor Network, ACT Venture Partners, Revo Capital and Şirket Ortağım.
Candidates interested in the BiGGInner Program may contact www.bigginner.com for more information and to submit their business ideas.
About the BiGGInner Project
Centered on the TÜBİTAK 1512 BİGG program, the Project is an end-to-end entrepreneurship support mechanism offering training, industry and technical mentorship, market and corporate business network development, pre-prototype and MVP production, laboratory access, and investor or customer presentations to tech-based entrepreneurs who have business ideas in the thematic fields of energy and clean technologies, smart transport, advanced manufacturing and industry, communication and digital transformation, and health and well-being.
BiGGInner is a TÜBİTAK-authorized official implementer that will collect the first stage applications for the 1512 BiGG Program, and is designed to "support entrepreneurs with innovation-focused technological ideas through mechanisms based on lean enterprise and market development methodologies, and accompany the entrepreneur on the journey to commercialization with a business plan prepared after technical and market-worthiness of the business idea is confirmed."
The technology- and innovation-focused business ideas of entrepreneurs will be supported from the idea stage to the market free of charge in order to enable them to convert their ideas to ventures with a high potential for adding value and creating employment opportunities.