Organized by KAGİDER (Woman Entrepreneurs Association of Turkey) in association with Sabancı University and hosted by Boyner Holding, the "Project 15 Woman Entrepreneur Boot Camp" brought together 150 entrepreneurial women whose businesses are less than three years old.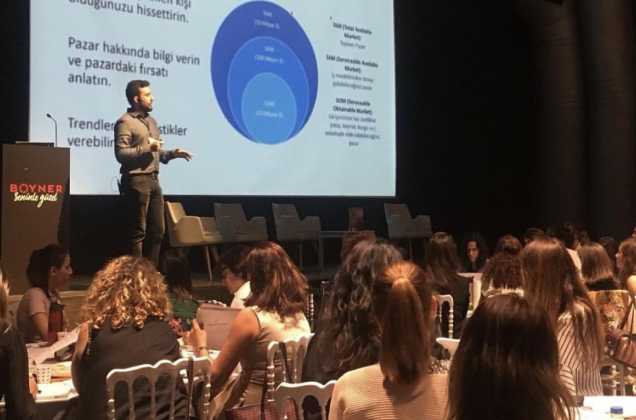 Selected applicants were asked to complete the online KAGİDER Pusula training prior to joining the boot camp, where they attended training sessions by subject matter experts and successful woman entrepreneurs, and completed workshops. Participants were chosen among applicants whose businesses had a turnover of less than TL 1 million, and had not passed the critical threshold of three years in operation.
Oktar: 'Our goal is to prepare woman entrepreneurs to the market'
The event held in association with Sabancı University and hosted by Boyner Holding on September 15 and 16 began with introductory remarks by KAGİDER Chair Sanem Oktar. Oktar stated the following: "Since established, KAGİDER has supported tens of thousands of women, and shown them the path to success in entrepreneurship. To celebrate our 15th year, this project aims to provide fifteen thousand women with remote access, while providing online training to 1500 women, and working on the business ideas of 150 women who would join the boot camp. Today, I'm delighted to have made the boot camp a reality. Our goal is to prepare woman entrepreneurs to the market. I believe we will expand the entrepreneurship map of Turkey with new and strong businesses built and grown bu women."
Also speaking in the event, KAGİDER Training and Mentorship Strategy Group President Seçil Şendağ emphasized the importance of networking: "This camp aims to make the long and difficult journey awaiting women a little easier. During your two days here, look in the eyes of your fellow journeyers; see each other, share your business ideas, build friendships. Because we women are far stronger when together."
15 chosen entrepreneurs will be supported
The event continued with a panel discussion titled "Growth Begins with Thinking Big: What Do Investors Expect?" moderated by Sanem Oktar, with speakers Armut.com founder Başak Taşdemir, Biolive (producer of bioplastics from olive stones) founding partner Duygu Yılmaz, and Vispera Bilişim Teknolojileri founding partner Aytül Erçil, followed by a networking session facilitated by training and development consultant Betül Bozkurt. The two-day event continued with training sessions by PDA founder Kılıç Arslantürk on "Gaining and Retaining Customers", Sparkus.com founder Dani Benreytan on "Creative Thinking for Business Development Management", Sabancı University School of Management faculty member Berna Beyhan on "Business Model Training", marketing agency NBT (Next Big Think) Turkish representatives Çiğdem Çetinbaş and Hülya Çeltekoğlu on "Surviving in the Digital World"; a panel discussion moderated by Seçil Şendağ with speakers BEE'O founder Aslı Elif Tanuğur, Reeder founding partner Sezen Şaral and Suteks Group founder Nur Ger on "Internationalization and Being a Global Company"; a training on "Effective Presentation Skills" by Sabancı University SUCOOL Coordinator Naci Kahraman; and "Coach-Led Presentations" by KAGİDER members.
The participants of the "Project 15 Woman Entrepreneur Boot Camp" will submit their project dossiers including short videos where they describe their businesses between September 17 and 23. After an initial screening by the Pre-Selection Committee, the 15 woman entrepreneurs with brilliant business ideas will be announced by a jury panel composed of prominent businesspeople and investors of Turkey on October 15. The selected entrepreneurs will be provided various means of support. These include meetings with angel investors and the entrepreneurship ecosystem, public relations assistance, mentorship from KAGİDER members for six months, and support of the Advisory Board comprised by KAGİDER members who are experts in their respective fields.
The project was implemented with the proceeds from journalist Elif Ergu's book "İlham Veren Kadınlar" published to commemorate the 15th year of KAGİDER, the 15th year celebration gala event held by KAGİDER, and the ticket sales of the play "Duyanlar Olsun" performed by KAGİDER members.