The 7th term of the Mercator-IPC Fellowship Program, an initiative of the Sabancı University Istanbul Policy Center and Stiftung Mercator, began. The fellows and their research topics were introduced in the Welcoming event held at the IKSV on Monday, October 8.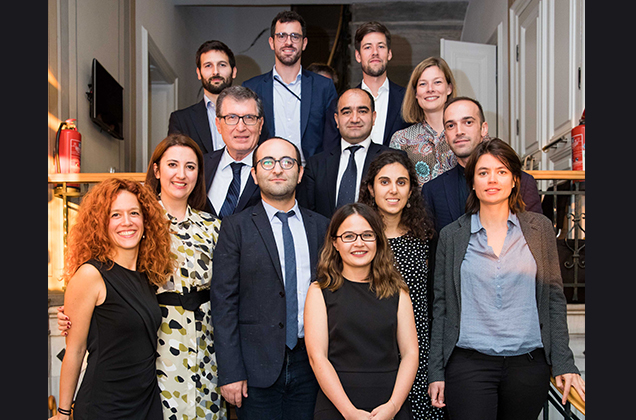 The new research fellows of the Mercator–IPC Fellowship Program, the cornerstone in the Istanbul Policy Center-Sabancı University-Stiftung Mercator Initiative, were introduced at a welcoming event. A Welcoming event held at the IKSV to celebrate the beginning of the new term of the Mercator-IPC Fellowship Program that aims to strengthen the academic, political and social ties between Turkey and Germany, and Turkey and the EU. Introductory remarks were made by Sabancı University faculty member and IPC Director Fuat Keyman and Stiftung Mercator Board of Overseers Chair Rüdiger Frohn.
"The ties between Germany and Turkey will continue into the future"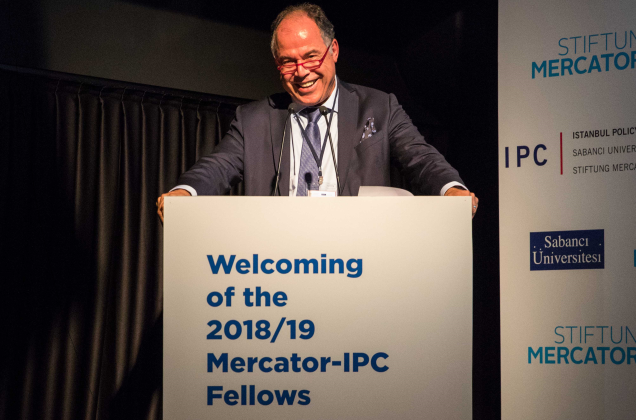 Sabancı University faculty member and IPC Director Fuat Keyman noted that as of its 7th year, the program has hosted 44 fellows and 13 senior fellows, organized more than 200 panels, conferences and book launches in Turkey and abroad, and cooperated with more than 30 national and international institutions. Keyman added that IPC has published more than 100 global publications, prepared and published editorials, academic essays and papers in various outlets, and organized three alumni meetings in Istanbul.
Saying that as an institution under the auspices of Sabancı University, IPC was represented in the last four COP (Conference of Parties on Climate Change) in Warsaw, Lima, Paris and Bonn, and was considered a significant point of liaison by Turkish academic and media circles, Keyman continued:
"IPC's main objective in EU-Germany/Turkey relations is to become a driving force that encourages partnerships. With respect to our projects, we have emphasized the EU's role in Turkey's political transformation to a more democratic environment, and established a working group on diplomacy to focus on the revision of the Customs Union and refugee issues. Our work on the state of Syrian refugees in Turkey and the policies developed for them falls under 6 categories: Health, education, employment, gender, civil society, and social integration.
We have also become a center for climate change studies in Turkey with the activities we have supported for building a network, recommending policies, and creating public awareness. Recently, energy transformation and the regional role of Turkey in energy policies are among our key areas of study."
Rüdiger Frohn: "Relations between Germany and Turkey are political and economic as much as cultural."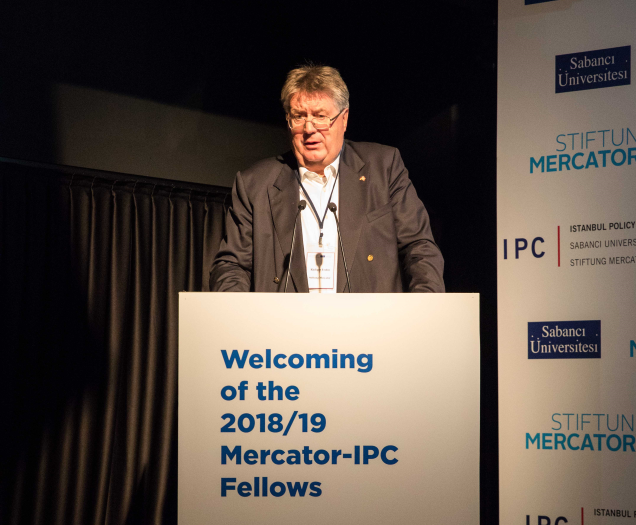 Stiftung Mercator Board of Overseers Chair Rüdiger Frohn suggested that much had changed since the IPC–Sabancı University–Stiftung Mercator Initiative was founded, continuing: "We have had the chance to express differing opinions and reinforce agreeing opinions. We need results-oriented and friendly relationships in issues that serve our mutual purposes; we need more diplomacy and more understanding. I hope that the new term will be an effective and pleasurable year for our new fellows. I would also like to thank Mrs. Güler Sabancı for providing us with the opportunity to express these within Sabancı University."
A range of research topics from EU/German-Turkish relations to climate change, energy politics and gender
Following introductory remarks, the senior fellows of the 2018/19 term were introduced: METU European Studies Center Senior Fellow and METU International Relations Department Honorary Professor Atila Eralp and former member of the Federal German Parliament and Green Party member Özcan Mutlu. This was followed by a video summarizing the research projects of this term's fellows Annegret Warth, Maissam Nimer, Jannes Tesmann, Joanna Krzeminska, Yohanan Benhaim, Ender Pekerand Cem İskender Aydın.
Research topics cover a wide range from the role of municipalities in German-Turkish youth exchange programs to access of Syrian youth to language education, workplace integration of Syrian refugees, the naturalization of Syrian refugees through cultural education, the effects of the economic aspects of foreign policy on Turkey-EU relations, climate-sensitive urban development, and conflicts regarding wind farms in Turkey.