The international consortium where the Sabancı University Gender and Women's Studies Center of Excellence (SU Gender) is a project partner received 3 million Euros in funding from the European Union Horizon 2020 Program "Science with and for Society" Action with the project "Gender Equality Actions in Research Institutions to traNsform Gender Roles" (GEARING-Roles). The project will begin in November and last four years.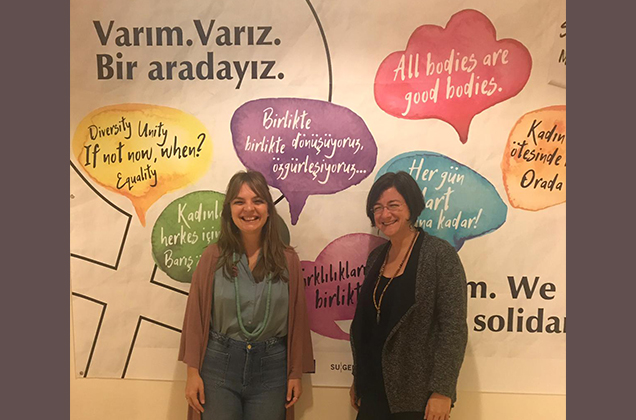 Photo: Zeynep Gülru Göker, Ayşe Gül Altınay
The coordinator of the project is the University of Deusto from Spain, and Sabancı University is the only Turkish partner of the initiative. The Turkish leg of the proejct will be implemented by Ayşe Gül Altınay and Zeynep Gülru Göker. The multinational project consortium includes universities and research institutions such as Universidade de Lisboa IGOT, Portugal; University of Ljubljana, Slovenia; Oxford Brookes, UK; Estonian Research Council; Yellow Window, Belgium; Euraxess-FEYCIT, Spain; Trilateral Research, Ireland; and Radboud University Nijmegen, The Netherlands.
Beginning in November and planned to last four years, the project aims to:
Work on direct and indirect obstacles, and the underlying presumtions, facing women in hiring and promotion to improve women's status in higher education; create career development plans that foster an inclusive and merit-based institutional environment;
Encourage women's participation in decision-making processes and mechanisms in higher education; alleviate gender-based imbalances in decisions and representation;
Implement and reinforce gender knowledge and perspective in research and curricula; encourage and support the career development of woman researchers;
Challenge gender norms and roles leading to inequality against women in STEM fields and men in social sciences; create a common framework for the efforts of project stakeholders on Encouraging Gender Equality in Research Institutions.
Gender Equality Action Plans (GEP) will be developed and implemented to address the needs of institutions. Project partners that will implement GEPs are Sabancı University, University of Deusto, University of Lisbon, Oxford Brookes, and Estonian Research Council.
Project partners will guide others in their respective areas of strength, and engage in mentoring and training, joint research, and dispersion activities.
Other project objectives are to ensure collaboration and joint efforts within institutions for developing and implementing action plans, building the mechanisms necessary to ensure sustainability, and to spread project work beyond the boundaries of the institutions.