Sabancı University Gender and Women's Studies Center of Excellence (SU Gender) held a panel titled "Women in Upper Management: University Experiences" at Minerva Palas on Thursday, November 1.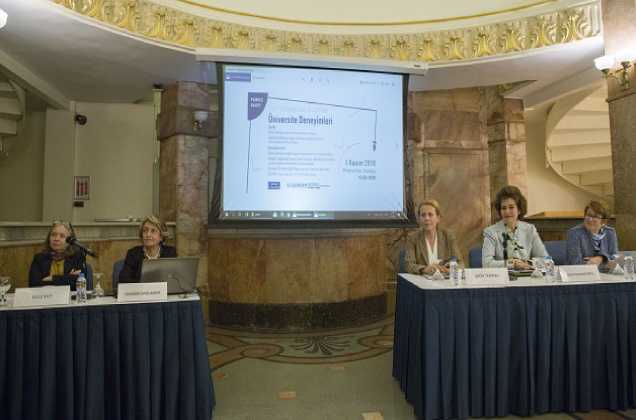 Introductory remarks to the SU Gender panel for discussing and encouraging women leadership in academia were made by SU Gender Director Ayşe Gül Altınay and Sabancı University Vice President Şirin Tekinay. Ayşe Gül Altınay emphasized the historical importance of the panel, and the major difference made by having women in upper management.
Şirin Tekinay said that achieving gender equality across the world would mean an increase in income by 12 billion dollars. Tekinay stated the importance of developing national policies and especially focusing on policies for increasing the number of women in university upper management.
Panelists were ITU President 1996-2004 Gülsüm Sağlamer, Kadir Has University Acting President Sondan Durukanoğlu Feyiz, Okan University President 2010-2018 Şule Kut and Boğaziçi University President 2012-2016 Gülay Barbarosoğlu.
Panelists discussed the contribution that having women in upper management would make to academic life. Sharing their management experiences, the panelists also emphasized the need to have more men who encourage and support the promotion of women in addition to institutional and social mechanisms that are gender sensitive.