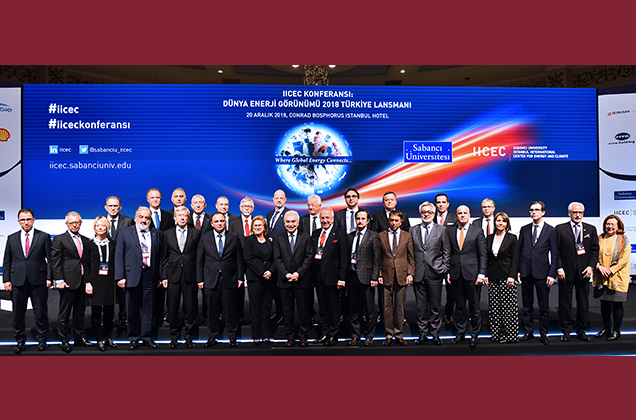 Sabancı University Founding Board of Trustees Chair Güler Sabancı:
"The industry needs to review and reorganize its capital structure; electrification brings great opportunities; the role of women in the energy sector is crucial"
Sabancı University Istanbul International Center for Energy and Climate (IICEC) hosted an energy conference on December 20, 2018 at the Conrad Hotel Istanbul, where the World Energy Outlook 2018 report was revealed.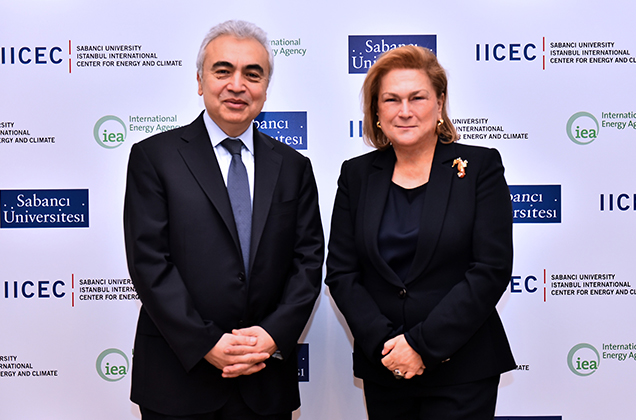 Speaking at the opening of the conference, Sabancı University Founding Board of Trustees Chair Güler Sabancı expressed her pleasure that IICEC once again hosted the Turkish launch event of International Energy Agency's annual World Energy Outlook, the bedside book of the political and industrial leaders of the world. Güler Sabancı noted IICEC's significant efforts towards becoming an international research center.
Saying that the International Energy Agency had flourished over the last three years under the guidance of IICEC Honorary Director Dr. Fatih Birol, Güler Sabancı said that they were pleased to see the organization gain new members and improve collaboration with non-members.With regard to the advances in the Turkish energy sector in the last 16 years, Güler Sabancı said:
"Public and private actors joined forces to expend great efforts and elevate this extremely strategic industry to a considerable height. More than 100 billion dollars were invested into the electricity and natural gas sectors alone, mostly by private businesses, in order to meet the rising energy demand. This increased Turkey's generation capacity by more than threefold. The Renewable Energy Source Areas (YEKA) model, which also incorporated domestic technologies, provided a great opportunity for growth and development. The distribution sector was completely privatized. Amazing results were achieved in nonprofit energy, quality of supply, and customer satisfaction thanks to private sector investments and efficiency operations."
"THE INDUSTRY NEEDS TO REVIEW AND REORGANIZE ITS CAPITAL STRUCTURE"
Saying that the steps towards establishing End-Source Supply Tariff regulations would play a large part in the competitiveness of the electricity market, Güler Sabancı continued:
"Above all, the transformative effect of technology started to offer unprecedented opportunities. But there is one precondition for the sector to operate more efficiently and create more value for stakeholders. That precondition is financial sustainability. Today, the energy sector struggles with it. We must adopt a holistic approach towards taking the energy industry to a better position regarding financial sustainability. To do this, first the industry needs to review and reorganize its capital structure."
"ELECTRIFICATION BRINGS GREAT OPPORTUNITIES"
Güler Sabancı said that it was in the interest of all stakeholders to push the electricity sector forward, and continued, "We must seize the great opportunities yielded by electrification with a young population, growing urban centers, growing transport sector, and an innovative attitude."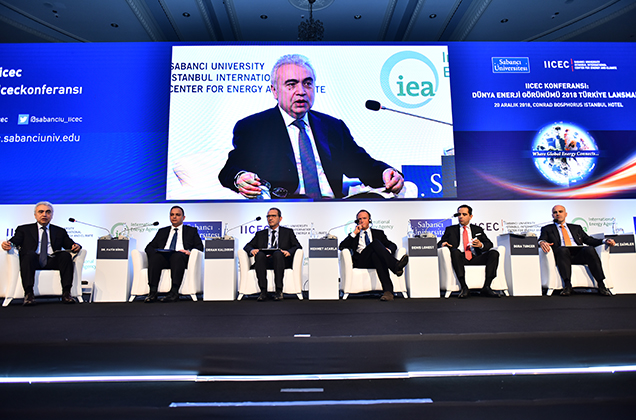 Dr. Fatih Birol, Orhan Kaldırım, Mehmet Acarla, Denis Lohest, Bora Tuncer
"THE ROLE OF WOMEN IN THE ENERGY SECTOR IS CRUCIAL"
Emphasizing the importance of university-industry partnerships in energy, Güler Sabancı stated:
"IICEC is a pioneer organization in many ways. We will continue to focus on high-value, knowledge- and technology-intensive projects and cooperations in the future. Furthermore, the role of women in the energy sector is crucial. This is why IICEC and the Sabancı University Gender and Women's Studies Center of Excellence (SU Gender) is working on a critical cooperation. Supported by the International Energy Agency, this platform seeks to render global support to women working in the field of energy."
Güler Sabancı concluded, "We need an energy sector that has strong financial sustainability and commitment to focus on technology for a safer, more efficient and more competitive energy ecosystem. This will ensure that energy plays a larger part in the economic and social development of Turkey."
Please click to read World Energy Outlook 2018's Executive Summary.
Please click to watch the IICEC Energy Conference.
About Sabancı University Istanbul International Center for Energy and Climate (IICEC): https://iicec.sabanciuniv.edu/about