The Şirin Tekeli Research Awards, endowed by the Sabancı University Gender and Women's Studies Center of Excellence (SU Gender) in association with the Swedish Consulate-General of Istanbul to honor Şirin Tekeli and her groundbreaking work on democracy, academic freedom, gender equality and feminism, were presented. The award ceremony was held as part of a conference to uphold, disseminate and enrich Şirin Tekeli's heritage.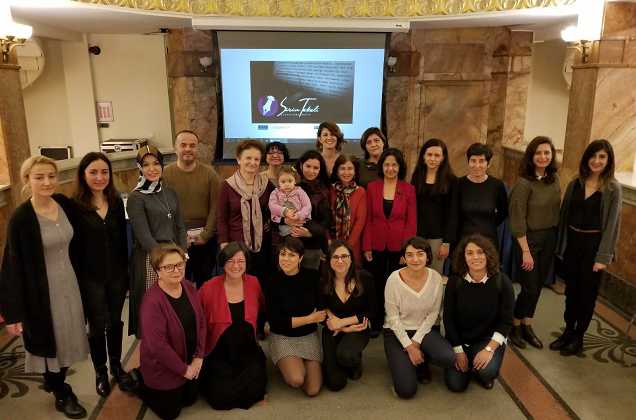 The winners of the Şirin Tekeli Research Awards, endowed by the Sabancı University Gender and Women's Studies Center of Excellence (SU Gender) in association with the Swedish Consulate-General of Istanbul in memory of Şirin Tekeli, who passed away last year, were announced at a conference held on Saturday, December 1 at Minerva Palas. The winners of the Şirin Tekeli Research Awards for supporting and encouraging gender-focused research in Turkey were Merve Kutuk-Kuriş, Petek Onur, and Caner Hazar, while Nazife Koçukoğlu, Cemile Gizem Dinçer, Bermal Küçük, Rüya Telli, Burcu Bakö, Cansu Tekin, and Elifcan Çelebi received Research Incentive Prizes.
Doctoral candidates and researchers who had completed their PhDs no more than 15 years ago were eligible for the awards. Winners were chosen by a panel of jurists from different universities based on international academic criteria. The 2018 Jury Panel consisted of Yeşim Arat, Fatmagül Berktay, Sibel Irzık, Deniz Kandiyoti, and Ayşe Öncü.
We want Şirin Tekeli's multi-layered heritage to live on with younger generations
Speaking at the opening of the conference, SU Gender Director Ayşe Gül Altınay said that their aim was to share Şirin Tekeli's multi-layered heritage with young researchers to further diversify and enrich her work, and continued:
"For most of us, Şirin Tekeli was the first name that came to mind when talking about feminism. Şirin Tekeli embraced everyone, appreciated all women and all ways of womanhood –even when she was a most vocal opponent of those ways– and instilled courage, motivation and inspiration with every word. Her feminism, which focused on being constructive, on inclusion, participation, unification, solidarity, and a profound transformation of life, and continues to light our path."
Istanbul University Faculty of Political Science Member Fatmagül Berktay, who, like Şirin Tekeli, has made invaluable contributions to the Library and Information Center for Works by Women as well as the Istanbul University Women's Studies Center, Turkey's first academic women's studies center, gave a lecture titled "A Life Dedicated to Equality and Freedom", where she discussed Şirin Tekeli's individual and intellectual courage, devotion to principles, and her willingness to engage in self-criticism and sharing weaknesses, saying that Tekeli inspired and empowered countless women in many ways, while building spaces that focus on transforming life.
The inaugural Şirin Tekeli Research Awards in 2017 were given to the following studies:
Building the Common: Women in Collective Spaces in Turkey
A Study on the Women's Civic Centers Operated by Local Administrations in Ankara
Women's/Feminist Movements of Turkey in the Light of Alliance, Solidarity and Contradiction
The Production of Invalids: Gender and Encounters between Genders in Highland Communities
Married to a Miner: Women Don't Last Long Here, Girl
Everyday Lives of Women Working in the Nazilli Sümerbank Textile Factory as a Place of Memory
Survival, Resilience, Quest for Justice: Women in High Criminal Courts
Woman Authors in the Ottomans (1895-1908)
Translators as New Actors in Turkish Publishing: The Transformation of Language, Theory and Profession (1980-2002)
Home as a Meeting Place: A Look at the "Ideal Home" in 1950s Turkey through the Studio-Apartment of Aliye Berger in Narmanlı Han
About Şirin Tekeli:
Şirin Tekeli passed away in June 2017, leaving a rich heritage behind. In addition to her groundbreaking 1978 PhD dissertation in Istanbul University, Women and Political-Social Life (İletişim, 1982) and the first interdisciplinary compilation of feminist women's studies in Turkey, Women's Perspective of Women in 1980s Turkey (İletişim, 1990), Tekeli wrote seminal feminist articles in the Somut newspaper in the early 1980s, translated over 20 books on women and democracy from French and English, and wrote essays for international academic journals and compilations, becoming one of the pioneers of gender and women's studies in Turkey and the Turkish language.
Şirin Tekeli was also the motivator and driving force of many steps taken to build and empower civil society, feminist movement, and gender equality policies. Between 1985 and 1990, Tekeli was actively involved in the campaign for effective implementation of The Convention on the Elimination of all Forms of Discrimination Against Women (CEDAW), the March for Solidarity Against Violence, the Chora Festival, the Purple Pin Initiative, and efforts for the amendment of the Civil Code. She was among the founders of the Human Rights Society in 1986, the Foundation for Library and Information Center for Works by Women of Istanbul in 1989, the Mor Çatı Women's Shelter Foundation in 1990, the Helsinki Citizens' Assembly of Turkey in 1993, and the Woman Candidates Support and Education Society (KA-DER) and Winpeace – Turkish and Greek Women's Peace Initiative in 1997.
Click here for the full text of Ayşe Gül Altınay's speech.