The last of the Sabancı University Gender and Women's Studies Center of Excellence (SU Gender) events to commemorate March 8 International Women's Day was held on Thursday, March 21, 2019 at Studio X.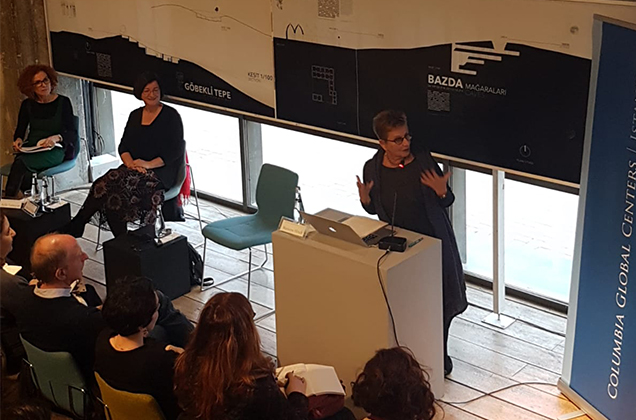 Organized in association with Columbia Global Centers | Istanbul, Hrant Dink Foundation, and Friedrich-Ebert-Stiftung, the event began with a keynote presentation by Marianne Hirsch titled "Women Bearing Memory: Stateless Figures". The presentation was followed by a discussion with panelists Aylin Vartanyan and Ayşe Gül Altınay.
Sharing her own story of being stateless, Marianne Hirsch said, "Being stateless is a condition where you are deprived of all your possessions, including your identity." She added that the word, evoking a need to belong and take shelter, was also emancipating for her.
Hirsch pointed out that the number of stateless individuals worldwide was on the rise, and that they did not know when they would be able to return.
Marianne Hirsch also said that, despite all negativity, being stateless also offered opportunities. According to Hirsch, a stateless memory was able to transcend boundaries and nations, harnessing the prospects of an existence beyond the nation-state.
Saying that being stateless made different transitions possible, Hirsch continued, "It is possible to deal with painful, sorrowful stories in different times and settings. Being stateless may build bridges between today's individuals, citizenship, nations, and identities."
A panel discussion with questions from the floor on gender, memory, art, body, identity and boundaries followed the presentation.