The "Technological Arts Preservation" project, enacted through the collaboration between Sabancı University and digitalSSM Archive and Research Space, is hosting a talk that brings together Jeffrey Shaw, a prominent name in the new media arts, with digital arts conservators from Tate and ZKM.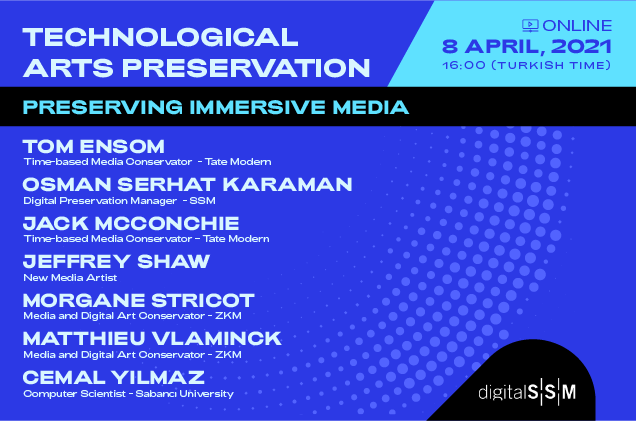 The talk will revolve around the methods of carrying immersive media into the future: the participants will focus on "Virtual Sculpture" (1981) by Shaw and "Memory Theater VR" (1997) by Agnes Hegedüs, and explore the technical and non-technical challenges of preserving the works of new media art.
PROGRAM
16.00
Keynote: The Artist's Views on the Preservation of Immersive Media
* Jeffrey Shaw, New Media Artist
For this session, the artist will share his views on the preservation of his work of art Virtual Sculpture (1981) as well as the work Memory Theater VR (1997) by Agnes Hegedüs.
16.40
Round-table: Non-Technical and Technical Challenges of Preserving Immersive Media
* Tom Ensom, Time-Based Media Conservator (TATE)
* Osman Serhat Karaman, Digital Preservation Manager (SSM)
* Jack McConchie, Time-Based Media Conservator (TATE)
* Morgane Stricot, Media and Digitla Art Conservator (ZKM)
* Matthieu Vlaminck, Media and Digitla Art Conservator (ZKM)
* Cemal Yılmaz, Engineering and Natural Sciences Faculty Member (SABANCI UNIVERSITY)
The debate will revolve around the works referred to in the first session and focus on the time factor in the preservation of technological artworks. The participants will examine whether it is possible to conserve the effect of an artwork that has been technologically produced and preserved. Accordingly, they will also explore the process of selecting the elements to be saved for the future in cases the original technology used for the work has become out of date.
18.00
Q + A
The event will be conducted in English and is free of charge for all participants who register at Sakıp Sabancı Museum's website.