Sabancı University Sakıp Sabancı Museum (SSM) Youth Board Members for the 2020-2021 period who come together to produce ideas and projects on different topics on the past, present, and opportunities of art representation have been elected.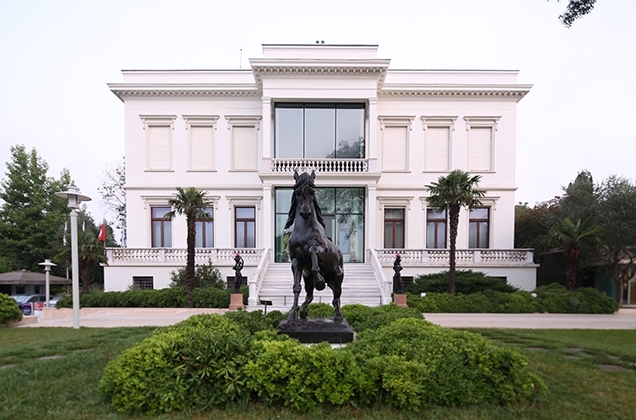 What is SSM Youth Board?
The board selected from Sabancı University students aged 18-25 will produce ideas and projects on the past, present, and opportunities of art representation under the guidance of the SSM team. Throughout the academic year, the Board members will meet with mentors on various topics, develop common ideas and projects with learning about museum and exhibition practices around the world. Additionally, in the light of their departmental and academic concentration, the board members will have the opportunity to think about creative, sensitive to the evolving needs of society, and viable processes by doing research on worldwide exhibition practices and digital initiatives.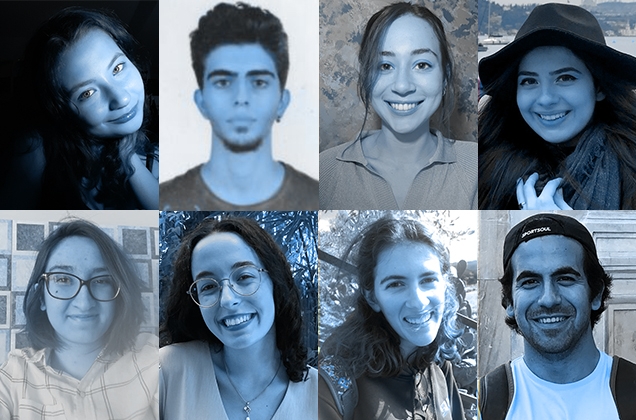 Top row from left; Ceyda Güzelsevdi, Doruk Soypaçacı, Eylül Bektur, Gönül Zeynep Perek.
Bottom row from left; Hande Pamuksuz, İrem Karacan, Sabanur Mete, Yiğit Karataş.
SSM Youth Board's works will continue in the coming academic years with the election and participation of new members.
Ceyda Güzelsevdi
"I'm Ceyda, a sophomore psychology student. Art has always had a special place for me, it has part of every project or work I have produced and contributed to. For this reason, being a part of the SSM Youth Board is invaluable to me. I hope that we can add value to SSM's original work by implementing special projects with valuable team members of the SSM Youth Board."
Doruk Soypaçacı
"Hi, I'm Doruk Soypaçacı. I was born in Erzurum, and I'm 21 years old. I completed my primary education in various schools in Erzurum, Düzce, and İzmir. I graduated from İzmir Science High School. Currently, I'm a junior student at the Computer Engineering Department of Sabancı University. Sports, art, and history are the areas I'm most interested in. Additionally, computer games and software have taken up a significant part of my life. Although I'm not talented in painting, contributing to the creation something graphically and visually pleasing is one of the things I enjoy the most. Therefore, I enjoy following developments in art."
Eylül Bektur
"I'm a junior student at the Computer Sciences Department of Sabancı University. I want to work in the film industry on computer-generated visuals. I'm a graduate of Izmir American College. I like to do research on places to visit, activities to attend, and dishes to eat, explore as much as possible, plan and learn something from people in the process. In this semester, I love sailing, painting, and taking analogue photographs the most."
Gönül Zeynep Perek
"Hello, I'm Gönül Zeynep Perek. I'm a sophomore student at the Faculty of Engineering and Natural Sciences and I'm in my second semester. I've participated in various clubs and projects during my undergraduate studies, and I've been a supervisor in Civic Involvement Projects (CIP) for 3 semesters. I'm so happy to find the chance to be involved in this community, I'm excited to get to know beautiful people."
Hande Pamuksuz
"Hello! I'm Hande Pamuksuz. I'm a freshman student at Sabancı University. I'm from Ankara and graduated from ODTÜ Kolej in 2020. I like to spend my time when I'm not busy with my classes and club activities looking after my cacti, reading books, researching things deep down on the internet, trying to learn languages, and watching TV series and movie analysis videos. I feel very lucky to have been given the opportunity to become a member of the SSM Youth Board; I am very excited to both learn about the presentation of art that I'm interested in to society and to gain practical experience throughout the year."
İrem Karacan
"I'm Irem Karacan, a junior student at the Industrial Engineering Department. Since I started Sabancı University, I have been working to develop myself in my areas of interest and gain experience in different areas. I enjoy traveling and learning about different cultures, drawing, visiting exhibitions and museums. Although I'm an engineering student, I've always had an interest in art, and I keep developing my wealth of knowledge on this subject by conducting research, taking courses. As a young member of the 2020-2021 SSM Youth Board, I look forward to learning new things about museology and listening to different perspectives on art and exchanging ideas."
Sabanur Mete
"I'm a junior student at the Materials Science and Nano-engineering Department. Additionally, I'm doing a minor in art theory and criticism because I'm interested in art history and philosophy. I want to stay in R&D once I graduate. I also work on a research project because I enjoy working in the laboratory. Since high school, I've worked as a volunteer in and implemented social responsibility projects. My hobbies include diving and yoga. It's also one of my hobbies to do research and talk about STEM subjects. I intend to continue the dance lessons I started when I went to Erasmus a year ago and to get myself informed about film work."
Yiğit Karataş
"Hello, I'm Yiğit, I have discovered my interest in art through my transfer to Vefa High School, which has trained many masters in the art ecosystem throughout history. I started working in the fields of photography and ceramics, and I was also involved in my first exhibition work during this period. Then, at Sabancı University, where I study at the Faculty of Arts and Social Sciences, I tried to create an online auction platform with my entrepreneurial spirit and interest in antiques. Today, I still actively pursue readings and current collections to specialize in classical period works while trying to deepen my knowledge in film and photography. By not separating art and aesthetics from his life, I joined the Sakıp Sabancı Museum Youth Board to contribute to the museology approach of the 21st century. In this journey, I take Bedri Rahmi's interdisciplinary productivity as a role model."