Sabancı University has started the countdown for commencement programs on July 3-4, 2021, when 2021 prospective graduates and 2020 alumni will come together back on the campus.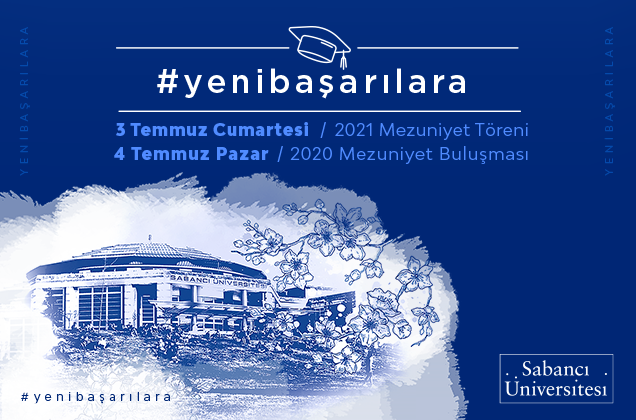 In the framework of commencement programs, the Commencement Day for 2021 prospective graduates will be held on Saturday, July 3, 2021 and, the Alumni Gathering for 2020 alumni on Sunday, July 4, 2021, on Sabancı University Campus. The ceremony can be watched live on the Sabancı University Youtube account from 17:00.
Commencement Day - July 3
Alumni Gathering - July 4
Program
13:00-15:00 Registration and distribution of caps and gowns (At the stations to be established at Şekerpınar Akbank Banking Center Carpark Area)
From 13:00, there will be ring shuttle service from Akbank carpark to the Campus. (Transport time is approximately 6 minutes.)
14:30-16:00 Catering for the alumni (Mealbox at the University's Central Open Space)
16:00-16:45 Taking places according to the seating plan (amphitheater)
17:00-19:00 Commencement Ceremony
19:00-19:30 Return of caps and gowns (at the points of return on the campus)
From 19:00 there will be a ring shuttle service from the Campus to Akbank carpark.
You can visit http://commencement.sabanciuniv.edu/ for details of the commencement programs, which are being planned observing necessary social distancing and hygiene rules in line with the pandemic conditions.
You can follow up updates about our commencement programs on our social media accounts with the hashtags #yenibaşarılara and #tümgücümüzlegeleceğe.
https://www.youtube.com/user/sabanciuniversity
https://www.instagram.com/sabanci_university/
https://www.facebook.com/sabanciuniv.edu