Climate Change and Our World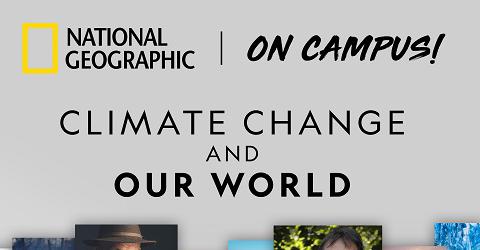 Climate Change and Our World
Sabancı University, Cinema Hall
The first event in the "National Geographic On Campus!" series will bring together renowned National Geographic photographer Reza Deghati and Assoc. Prof. Barış Karapınar who shared his expert opinion in the documentary Climate Issue. They will be sharing their views on the impact of climate change on the world.
We invite all Sabancı University students and staff to this event where you can ask your questions to the speakers and get to know the National Geographic world up close.
The event will be held in English.

İklim Değişikliği ve Dünyamız

Sabancı Üniversitesi, Sinema Salonu
"National Geographic On Campus!" serisinin ilk etkinliğinde dünyaca ünlü National Geographic fotoğrafçısı
Reza Deghati
ve İklim Meselesi belgeselinde uzman görüşlerini paylaşan Doç. Dr.
Barış Karapınar
iklim değişikliğinin dünyamız üzerindeki etkilerini kendi bakış açılarından katılımcılar ile paylaşacaklar.
Konuşmacılara merak ettiklerinizi sorup National Geographic dünyasını yakından tanıyabileceğiniz etkinliğimize bütün Sabancı Üniversitesi öğrencilerini ve çalışanlarını bekliyoruz.
Etkinlik İngilize gerçekleşecektir.