Seminar: Dynamic Instabilities in Supply Networks: A Generalized Mode...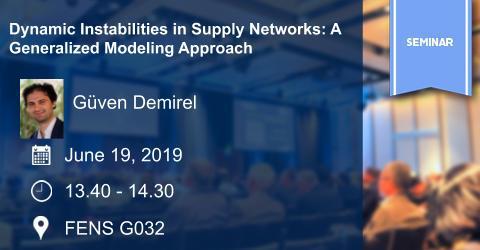 Speaker: Güven Demirel
Title: Dynamic Instabilities in Supply Networks: A Generalized Modeling Approach
Date/Time: June 19, 2019 / 13.40-14.30
Place: FENS G032
Abstract: Supply networks require stability since they are constantly exposed to various sources of disturbances and disruptions. We borrow a method from ecology, Generalized Modeling, to study the dynamic stability of supply networks. We develop a minimalist dynamical network model that focuses on instantaneous product flows and enables studying the impact of network structure and inventory management policies on network stability. We perform bifurcation analysis of a small cyclic network motif, which shows that instabilities emerge from saddle-node, Hopf, and homoclinic bifurcations. Applying the approach to two real supply networks, we find that cyclic motifs that involve separate paths from a common supplier to a common firm downstream and the competition for the same limited resources are generally destabilizing in supply networks. We discuss the policy implications of the findings.
BIO: Dr Güven Demirel is Lecturer in Supply Chain Management at the School of Business and Management, Queen Mary University of London, United Kingdom. He holds a PhD in Physics from the Technical University of Dresden, Germany. He previously worked at the Max Planck Institute for the Physics of Complex Systems, Dresden, Germany; Nottingham University Business School, UK and Essex Business School, UK. He conducts interdisciplinary research on complex systems, investigating the stability and resilience of supply networks and ecological networks; the effectiveness of supplier development programs; and the co-evolution of the network structure and contact processes. He is the author of research articles in prestigious journals, including Science, Physica D, Journal of Operations Management, and European Journal of Operational Research.
Contact: Ali Rana Atılgan