digitalSSM Webinar: Preservation of Virtual Reality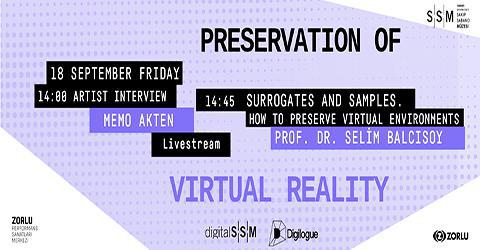 The conference series realized as part of the project 'Technological Arts Preservation'—enacted through the collaboration of Sabancı University and digitalSSM with the support of Digilogue—continue with the two-part series talk titled 'Preservation of the Virtual Reality-Based Art Works.' The discussion on the preservation strategies with regards to virtual reality artworks, will feature the artist Memo Akten and Prof. Dr. Selim Balcısoy of Sabancı University's Department of Computer Science & Engineering.
Simultaneous interpretation will be available in English.
WEBINAR PROGRAM
18 SEPTEMBER
14:00
Artist Interview: Memo Akten
14:45
Surrogates and Samples. How to Preserve Virtual Enviroments.
Selim Balcısoy - Faculty Member, Sabancı University