Women leaders meet at Sabancı University
KAGİDER (Women Entrepreneurs Association of Turkey) held its first "Young KAGİDER Days" on Tuesday, February 21st at the Sabancı University campus in Tuzla. Attending the event were AvivaSA CEO Meral Eredenk, national basketball team player Yasemin Horasan, psychiatrist Professor Bengi Semerci, KAGİDER Vice President Selma Akdoğan, Pınar Kapralı Görsev, Piraye Antika and Serhat Görgün.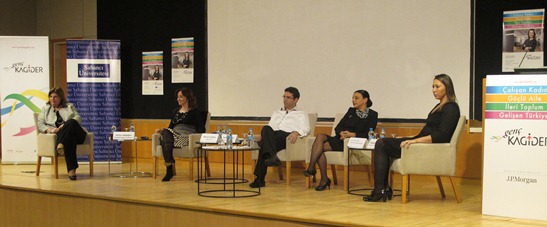 Sabancı University hosted the "Young KAGİDER Days" event on Tuesday, February 21, 2012. Supported by JP Morgan, the "Strong Woman, Strong Family, Advanced Society, Developed Turkey" themed project kicked off at the Sabancı University campus in Tuzla. The event was hosted by the Sabancı University Faculty of Arts and Social Sciences and the Gender and Women Studies Forum, and was attended by 200 university students.
The child will be only as self-confident as the mother is strong
The event began with the welcoming speech of School of Management faculty member Burcu Taşoluk. Following a film screening, KAGİDER Vice President Selma Akdoğan made the opening speech, discussing the importance of developing women's entrepreneurship and reinforcing the social and economic position of women. Akdoğan explained the Young KAGİDER Days Project, saying that the initiative would ultimately expand to 10 universities with professional leaders, entrepreneurs, sociologists and psychologists as keynote speakers, and would serve to inform young individuals about a variety of jobs. Concluding her speech, Selma Akdoğan said, "The child will be only as self-confident as the mother is strong. If you have economic power, you will be shown more respect as a productive individual, and will respect yourself more."
Marriage and motherhood is not a career
Professor Bengi Semerci, a psychiatrist specializing on adolescents, took the floor after Selma Akdoğan and gave a speech titled "The Effects of Women's Involvement in Economic Life on the Society." Professor Semerci underlined the importance for women to be involved in work, saying "Young girls are taught that their most important duties are to get married and have children". Semerci said that marriage and motherhood could not be considered a career, explaining how working women were regarded "without choice." Debunking the myth that working life is a man's world, Professor Semerci said, "Being human, working, and succeeding is enough for achievement in one's job."
AvivaSA CEO Meral Eredenk, Professor Bengi Semerci, national basketball team player Yasemin Horasan and Serhat Görgün of Galata Business Angels spoke in a panel discussion moderated by Selma Akdoğan. Meral Eredenk said that it would be wrong to view life as entirely made of work, marriage or fun, and that striking a balance between all three was important. Eredenk discussed the importance of educated women taking part in professional life, saying, "You are the most valuable asset in this country. Do not let this go to waste."
Serhat Görgün spoke on the importance of entrepreneurship for the development of Turkey, and explained the role of woman entrepreneurs. Görgün said, "If Turkey wants to advance, technology should be prioritized and woman entrepreneurs supported."
Yasemin Horasan said that as a basketball player, she ran her own business. Horasan said that as a woman who worked non-stop to maintain her performance, she was in a way a company that provided employment opportunities to many. Explaining how basketball taught her to take responsibility, manage risks and remain resilient when faced with crises, Horasan said she believed that her learnings would continue to benefit her in the future.
Pınar Kapralı Görsev made a presentation titled "My First Idea, My First Enterprise" after the panel discussion, explaining the various aspects of entrepreneurship. She was joined by her business partner Piraye Antika for the question and answer session. Some of the topics discussed by Pınar Kapralı Görsev were the five requirements of entrepreneurship, the key to successful enterprises, how to start and enterprise, idea and team, business model and implementation, and the creation of a business plan.