Sabancı University alumni residing in the United States gathered on April 27 and 28, 2019.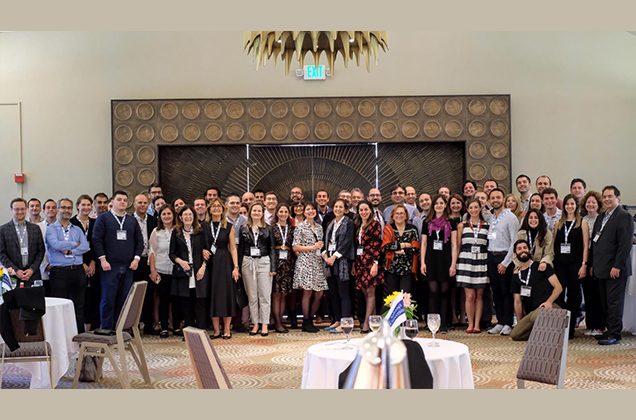 Sabancı University Founding Chairman of the Board of Trustees Güler Sabancı, President Yusuf Leblebici, Vice Presidents Cem Güneri and Mehmet Yıldız, as well as faculty members and administrators attended the twelfth meeting of US alumni.
"Be successful, be happy: we need you"
Speaking at the US alumni meeting, Sabancı University Founding Chairman of the Board of Trustees Güler Sabancı noted that a new era started at Sabancı University, saying "I am confident that we will do our best in the leadership of our President Yusuf Leblebici, our vice presidents and our deans, in this new era." Saying that centers of attraction like Sabancı University were able to make a positive difference under any circumstance, Güler Sabancı continued: "You are doing great things. And you have a school that you can be proud to return after your degrees or works are completed here. I also believe that we can create the right environment for you." Güler Sabancı ended her speech with the message: "Be successful, be happy: we need you."
"We want our alumni among us"
Also speaking at the meeting, President Yusuf Leblebici said that the new era of Sabancı University, we would work for our institution to become one of the best universities not only in Turkey, but worldwide. Emphasizing the importance of the contributions and experience of Sabancı University graduates in this process, Leblebici said, "We want our alumni, who have had considerable success in academics or professional careers, among us."
Boston Alumni Meeting
The Boston Alumni Meeting was held on Saturday, April 27, at the Harvard University Harvard Faculty Club with the attendance of Consul-General Ceylan Özen Erişen.
A group of 160 Sabancı University graduates currently pursuing graduate degrees or careers in the US gathered for the dinner. Our alumni reconnected over dinner and shared their ongoing projects or previous achievements.
Images are available here.
San Francisco Alumni Meeting
Our West Coast graduates met at the Sheraton Palo Alto for the San Francisco Alumni Meeting on Sunday, April 28.
Led by Computer Science and Engineering 2008 graduate Selim Önal, the meeting was attended by almost 80 graduates. We told our alumni about recent developments at the university, solicited their feedback, and discussed potential cooperation opportunities. Images are available here.