Our graduate Arda Ertem's entrepreneurship story begins in Sweden, where he went for his master's studies. After graduating from the Faculty of Management Sciences in 2008, Ertem's path to Sweden for a master's degree in Management crossed with Ece Kural and Furkan Bayraktar, developers of the Scrintal idea. The team was completed when Yusuf Karataş, a student at the Economics Program of Sabancı University, started working at Scrintal 4 months ago.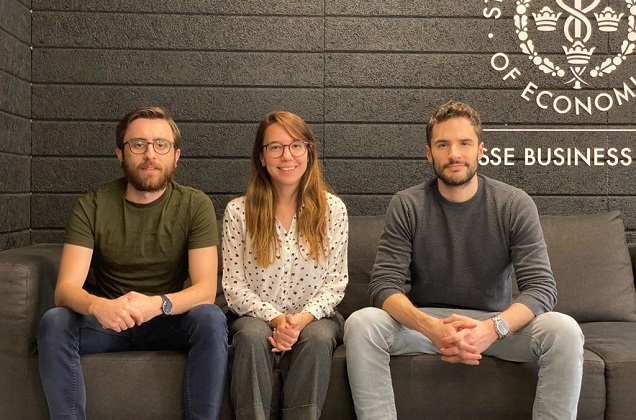 (Left To Right) Furkan Bayraktar, Ece Kural, Arda Ertem
Using speech-to-text technology, Scrintal provides audio and video decoding services in 16 different languages. Arda Erdem explains his goals for Scrintal, which also offers opportunities such as text editing, interview analysis, and qualitative data analysis as follows: "The main part of the job that creates value is not to give the data as it is, but to interpret it and make it into meaningful information. At the heart of our growth goal is this conversion."
We talked with Arda Ertem about his start up story.
Can we get to know you and Yusuf briefly as two members of the Sabancı family at Scrintal?
Arda Ertem: I graduated from the Faculty of Management Sciences in 2008. Two years after graduation, I was accepted into the master's program in Management at the Stockholm School of Economics in Sweden.
After graduating in 2012, I got a job at a small start up based in Stockholm, and I also earned a residence permit that would allow me to stay in Sweden. After that, I worked on Business Development at a global employer brand consulting company called Universum for more than 5 years, I was responsible for Turkey and the Middle East region (Lebanon, Saudi Arabia, UAE, Egypt). I can say that I reaped the fruits of the responsibility that this adventure had placed on me at a young age in my later works.
After Universum, I had a brief but quite successful experience at Naty, which operates in the fast consumer goods industry. In this process, I worked especially in charge of the European region. Then I worked for a year as a business development director of Intellego Technologies, a start up. In this period, especially due to the highly developed start up ecosystem in Stockholm, my desire to work on my own business began to grow.
I heard about a project that my programmer friend Furkan, whom I constantly asked for advice, was working on with another Turkish friend, and I quite liked the idea. In May 2020, I joined the company as the third co-founder, and in July 2020, we launched the first version of the platform.
Yusuf Karataş: I am a senior student at the Economics Program of Sabancı University. I gained experience working at Sabancı University's Advertising and Marketing Office and various small businesses. I started working at Scrintal as part of Sabancı University's special online internship project this year. After the end of my compulsory internship, I had the opportunity to continue at Scrintal. We have been working together for about 4 months to develop Scrintal.
How was the idea of Scrintal conceived?
Arda Ertem: Ece, one of the co-founders, is currently doing her PhD on climate change at Stockholm University. The difficulties that she experienced in deciphering around 50 interviews she conducted as part of her doctoral dissertation encouraged her to come up with a solution to this problem, and in 2018, she and Furkan came up with the idea of Scrintal.
So far, we have received two grants worth SEK 300,000 from Vinnova, Sweden's Innovation Agency, and SEK 33,000 from Almi, one of Sweden's most important start ups. We have dedicated some of these funds to understanding the workflow and needs of potential users, and in this context, we have conducted interviews with approximately 100 users.
Scrintal basically delivers speech-to-text technology to end users. The server infrastructure, which we have developed with our internal resources, turns audio and video files into text using the services provided by Amazon and Google. The web interface, which we have developed with our internal resources as well, helps our users upload, store, and turn audio and video files into text using our server infrastructure. With our web-based text editor and integrated analysis tools, we can easily edit and analyze the text obtained by users.
Speech-to-text technology is actually not a new phenomenon; it is a subject where companies such as Google and Amazon have been seriously working on and allocating resources over the past few years. For this reason, the rate of accurate conversion of spoken words to text has improved significantly over the past few years. For example, you can now turn a high-quality audio recording into text with 97% accuracy, but since the rate of accuracy depends on various factors such as the clarity of the voice recording, noise in the background, speaker's proximity to the microphone, each user's experience can be quite different.
There are already dozens of different areas where speech-to-text technology can be used. Researchers, journalists, lecturers, podcast creators, libraries, call centers, and many similar institutions want to turn audio or video recordings into text, access data that they currently cannot use, and get valuable insights by interpreting this data correctly. As Scrintal, we have identified our target group as researchers at the first stage. We continue to add features to our platform that will meet their needs. However, in this process, we continue to conduct needs analysis with other user groups.
You provide deciphering services in 16 different languages. How do you carry out the development process for different languages?
Arda Ertem: Thanks to Scrintal's flexible code infrastructure, this process can be performed very easily when we want to add a new language. But the criterion that matters to us is the quality of the language that will be deciphered, rather than the amount. The languages we already turn into text are those with a certain deciphering accuracy rate. There have been languages that we removed from our list because we were not happy with the performance. On the other hand, we support more than one accent in English and Spanish, the most widely spoken languages in the world.
Scrintal works as follows: It turns the first draft of any audio or video recording uploaded to the platform within minutes. The extent to which this draft needs correction is entirely proportional to the quality of the audio recording and the intelligibility of the sounds. Users complete the correction process either on their own or as a team. They can mark points they consider important in different colors and add notes. When they finish the process, they download the final version of the file to their computer in the format they want.
Assuming that an average of 4-6 hours are spent deciphering an hour-long interview, the most important value we offer to users is reducing this time by at least 50%, thereby maximizing efficiency. When you consider that there have been dozens of interviews as part of a project, we save them dozens of days they would otherwise lose.
Finally, last month, we have started implementing a new service, especially for our customers who do not have time to decipher. For an additional fee, we can also correct deciphering for our customers who do not have time or only request a close-to-perfect output. This way, they do not have to do anything.
Can you tell us about Scrintal's growth goals?
Arda Ertem: Our vision as Scrintal is to become a single platform that researchers can use throughout all research processes. We aim to transform the product from being just a deciphering platform to a structure where users can perform the analysis they really need. The main part of the job that creates value is not to give the data as it is, but to interpret it and make it into meaningful information. At the heart of our growth goal is this conversion. We are aware that otherwise, as a platform that only does speech-to-text, we will not be able to meaningfully differentiate from our competitors.
Because of the Covid-19 pandemic, we can also see that the way they conduct research and give lectures has changed. In particular, as a team, we believe that the effectiveness of cloud-based platforms, where researchers can decipher and analyze their interviews more quickly and synchronously and access this data from anywhere, will increase in the coming years.
In addition, due to the shift to digital education as a result of the the pandemic, we are seriously considering certain solutions as part of our growth plan which will increase the learning efficiency of students in the remote education process and make it easier for students with disabilities or learning disorders to understand video course contents.
It is a pleasure for us to have two members of the Sabancı family in the project. What did being a graduate or student of Sabancı University add to you in terms of working at a start up and gaining an entrepreneurial vision?
Arda Ertem: Thank you very much for your kind words. The most important role that Sabancı University played in my life is that it accelerated the process of going abroad thanks to its vision, as well as the motivation that it gives you and what I learned there. Even after graduation, my connection with Sabancı University was never severed. While working at Universum, we had the opportunity to collaborate within the framework of a 3-year Erasmus+ project under the coordination of Şule Yalçın from the Career Office and her team.
I can say that my vision of entrepreneurship has gained a different dimension, especially in 2019. The most important factor here is not the strong start up ecosystem in Stockholm, but rather the assessments I personally made about what I enjoyed in life and how I wanted to live. As a result of this assessment, I realized that I did not want to continue my career in a corporate structure unless I had to, and I wanted to create something new from scratch, and I decided to take a risk to this end.
"In this context, I think Sabancı University gives a much freer and more questioning vision to young people. When I look back and look at the diversity of courses I have taken, I can easily observe the impact that this wealth of options has had on me.
Yusuf Karataş: For me, one of the factors that makes Sabancı University the most special is the interdisciplinary course selection mechanism that it offers to its students, regardless of their field. Especially when it comes to entrepreneurship and small business management, you need to have some knowledge in many different areas. When your manpower is also limited, it is very important that you have a general understanding of the functioning of issues related to different departments or outside your field. Thanks to the freedom to access information provided by Sabancı University to its students, you have a comprehensive understanding of business management, whether in entrepreneurship or other areas. All you have to do is take an interest in entrepreneurship, and then you can already benefit from the opportunities offered by Sabancı University and its student-friendly approach to education.
"In the Scrintal adventure, of course, we can see a lot of the reflections of this knowledge made possible by being a member of the Sabancı family.