Barış Bilgit, a student of the Gender Studies PhD Program of the Faculty of Arts and Social Sciences (FASS) has won a Fulbright PhD dissertation research scholarship for the term for his dissertation theme. Barış Bilgit will be in the US next year to do research about his dissertation through this scholarship, which Fulbright has recently opened.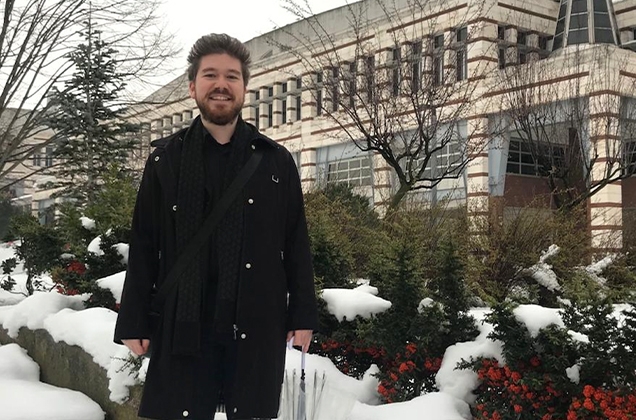 The Fulbright PhD dissertation research scholarship is a scholarship program aimed at enabling doctorate level students from various countries of the world, including Turkey, to continue part of their dissertation research in the US. Students receiving the scholarship gain the opportunity to do fieldwork and archive research as visiting researchers at prestigious US universities for one year. To be eligible for the scholarship program, applicants must have completed the courses of their PhD program and set their dissertation subject. It is essential that candidates have the potential to be leading researchers in their field and that their dissertation studies be carried out in the US.
Following the PhD qualifying examination, Barış Bilgit will go to the US as a Fulbright scholar to do his research on his dissertation entitled "Life as a gift: Voluntary Surrogate Motherhood, Reproductive Justice and New Family Relations". In his study, through qualitative research methods, Barış Bilgit will focus on the solidarity of voluntary surrogate mothers and LGBT individuals who want to be parents, and their fight for equality. About his winning a Fulbright PhD dissertation research scholarship, Bilgit commented, "I am glad that the efforts of my family, starting with my mother, my professors, myself and individuals from any identity trying to be a part of the fight for gender equality has borne fruit. I now feel much closer to reaching my target to become a researcher generating knowledge in the reproductive justice dimension of the search for justice against sexual orientation-based discrimination."
Ayşecan Terzioğlu, the member of FASS acting as supervisor of Barış Bilgit's dissertation, said that it was very exciting and inspiring to learn that Barış had won the Fulbright PhD dissertation research scholarship, not only for SU Gender Studies, but also for other PhD students at Sabancı University. Emphasizing that the Fulbright scholarship was an important opportunity so that studies and research at Sabancı University could be better known on international platforms, Ayşecan Terzioğlu added that she was sure Barış, who she supervised as a PhD student, would do academic studies in the US that would greatly contribute to his academic background and dissertation, thanks to his usual hard work, efforts and positive attitude. Ayşecan Terzioğlu pointed out that she congratulated Barış Bilgit again, and hoped that other PhD students would benefit from Fulbright PhD dissertation research scholarships.
About the FASS Gender Studies Program
This is a doctorate level program opened at FASS in the fall of 2017, and currently has 10 students. In addition to having international recognition, the program aims to be the leading program in Turkey in the field of gender studies and hosts many ongoing dissertations in diverse areas, ranging from digital feminism to transforming masculinities with an interdisciplinary approach. Students in this program take lessons and do readings in many different disciplines such as sociology, anthropology, literature, psychiatry, psychology and political sciences to develop their interdisciplinary perspective. Students in Gender Studies also take an active role in the events of SU Gender (Sabancı University Gender and Women's Studies Center of Excellence).