Civic Involvement Projects (CIP101) was introduced in 1999 as a compulsory course for all students in all Sabancı University programs. The purpose of the projects are to help individuals perform their responsibilities towards their community both through teamwork and personal initiative. The projects make a difference in the society and ensure continued involvement.
"I hope everyone who strives to make a difference can be involved in meaningful endeavors like CIP."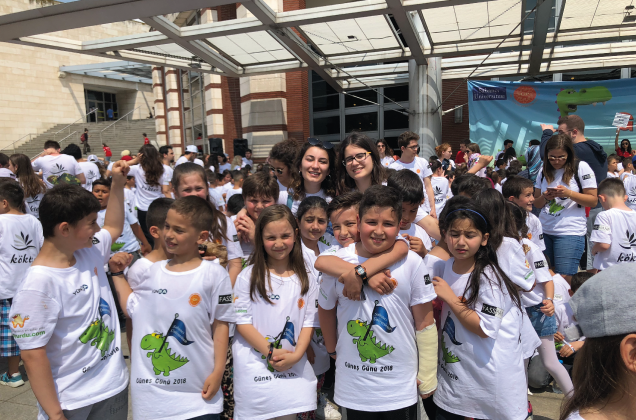 Sabancı University Industrial Engineering student Seden Özcan speaks about Civic Involvement Project experiences
"Hello, this is Seden. I completed the second year of Industrial Engineering at Sabancı University. I am also a fresh CIP advisor. With university selections coming up, I would like to talk about my own experience. Like so many others, I was unsure of which university to aim for. I had priorities and expectations, and it also mattered that the university where I would study was socially developed as well.
Finding out about CIP played a big role in my choice. I had a wonderful time in the compulsory CIP 101 course for new students. This got me engaged in civic involvement projects, and I took part in the "Discover Yourself" project held in Lüleburgaz that summer. It was one of the most special opportunities I had in university. I met the sweetest of friends. Then, as a supervisor, I took part in two other "Children in Schools" projects and one "Senior Citizen Support" project. At the end of each project, I became a little more mature. I reached different conclusions about myself and life in general. And starting with the first project I did, I discovered new motives in life. I experienced firsthand how much of a difference it made when I made someone smile, earned a small place in someone's heart, or attended to some detail.
When I look back at these three years, I remember dozens of memories that make me smile, and I believe that to be a good measure of wealth. I am glad that I had CIP in my life. I hope everyone who strives to make a difference can be involved in meaningful endeavors like CIP. And I hope that your choices bring you happiness."