Founded by Sabancı University and Massachusetts Institute of Technology (MIT) in 2015, Turkey's first and only Big Behavioral Data Analysis and Visualization Laboratory (BAVLAB) continues its activities without interruption. BAVLAB has extend its protocol term until 2025 by including New College of Florida in its collaboration with the MIT Media Lab and will further expand its work on big data analytics.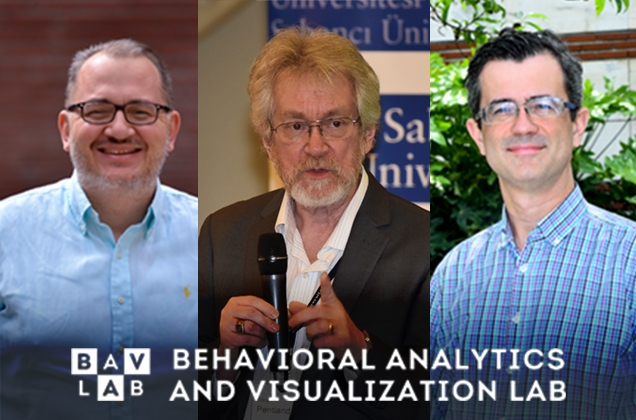 Selim Balcısoy, Prof. Pentland (MIT), Burçin Bozkaya
Our master's students, doctoral students, and post-doctoral researchers have conducted studies under the management and guidance of faculty members within the scope of BAVLAB's collaboration with MIT Media Lab. Two doctoral students from Sabancı University have visited MIT and two post-doctoral researchers from MIT have visited Sabancı University. More than 15 joint publications have been produced. In cooperation with MIT, a common benefit was created by carrying out different studies related to Sabancı Holding, Akbank, and Sabancıdx.
The Directors of BAVLAB Selim Balcısoy, a Faculty Member at the Engineering and Natural Sciences, and Burçin Bozkaya, a Faculty Member at the Faculty of Management Sciences, shared their views about the expansion of the collaboration with MIT Media Lab with the participation of New College of Florida.
Emphasizing that this collaboration is a new model which is based on academic excellence, does not receive any corporate funding, and continues with the logic of a collaborative work only for the advancement of science, Selim Balcısoy said "With the protocol signed by all three schools, our school's access to international scientific networks and its opportunities to contribute to joint research will increase." Burçin Bozkaya noted that with this cooperation between the three universities, both the scope of experience and connections that the students of Sabancı University can gain abroad, as well as the content and scale of research projects that can be carried out with the academic staff of the three schools, will greatly expand. Regarding the inclusion of New College in the ongoing collaboration between BAVLAB and MIT over the past 5 years, Bozkaya said "It will be possible for more graduate students to participate in research activities in the field of Data Science."