Three projects of faculty members from Sabancı University Faculty of Engineering and Natural Sciences (FENS) were found deserving of support in the framework of the TÜBİTAK 2247-A National Leading Researchers Program, which was launched in 2020.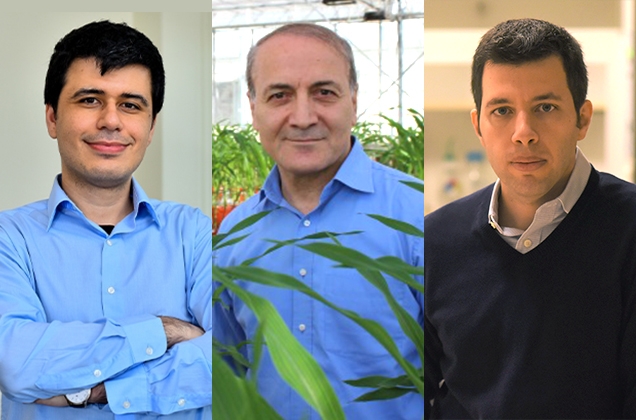 Burak Kocuk, İsmail Çakmak, Murat Kaya Yapıcı
In the framework of the program, the projects of Burak Kocuk, İsmail Çakmak and Murat Kaya Yapıcı from FENS are supported. In addition to a total research grant of 2 million 750 thousand Turkish Lira for the projects, which will last three years, the support includes covering the scholarships of 5 PhD students/post-doctoral researchers whom each principal investigator will involve in their projects, a project incentive premium payable to researchers who will take part in the projects, and a financial contribution to the hosting institution for overhead expenses.
The project, of which Burak Kocuk is the principal researcher is supported under the "Young Researcher" category of the program. The name of the project is "Large Scale Optimization Problems with Matrix Multiplication and Applications", and the project will examine a class of optimization problems that are faced in many fields starting with biology and materials science & control. The problems in this class are identified as non-linear and usually discontinuous optimization problems that include multiplication of matrices selected from among a finite or non-finite family. In the scope of this project, the mathematical structure of this class of problems, which is a large scale and quite challenging one, will be examined and tailor-made solution methods will be developed for the problem. These methods will then be applied to Antibiotic Time Machine and Multilayer Thin Film Problems.
The project, of which İsmail Çakmak is the principal researcher, and which is supported in the "Experienced Researcher" category, is called "Nitrate: The barrier to transfer of iodine from the soil to plants, and from plants to animal milk". The aim of this project is to explore and reveal the impact of nitrate on the reception, transport and accumulation of iodine in the food chain from the soil to plants and thereafter to cow milk. Iodine deficiency is considered an important risk factor for mental development impairments, thyroid tissue defects and thyroid cancer. Cow milk is considered a mostly important source of food to meet the iodine needs of humans (particularly children).
Although many measures have been taken to fight iodine deficiency in humans, starting with the enrichment of table salt with iodine for more than 30 years, lack of iodine is still a global mineral nutrition problem. The growing iodine deficiency in humans is thought to be attributable, to a great extent, to nitrate, which is found in food and drinks that humans consume.
The third project, of which Murat Kaya Yapıcı is the principal researcher, and which is supported in the "Experienced Researcher" category of the program, is called "Development of Innovative Scanning Probe Chips and Acquisition of Scanning Probe-Based Accessible Micro/Nanofabrication Platforms". In this project, scanning probe microscopes, which are very strong screening and characterization tools, will be transformed into cost-efficient scanners that are capable of creating designs at micro/nano scales in the desktop environment. Thanks to the original scanning probe chips and systems to be developed, a typical AFM platform can be used directly as a lithograph or bio-printer, thus a platform technology catering for a wide range of applications from nano-scale design to cell biomechanics will be acquired.
In the framework of 2247-A National Leading Researchers Program launched by TÜBİTAK in 2020, support is provided to projects that have the potential to make significant discoveries and / or inventions, which include targets for achieving groundbreaking developments in areas of strategic value for our country in every field of science and technology, offering the opportunity to meet important gaps in the field, and to give researchers a new perspective.
Some of the eligibility criteria for program support include number of publications of applicants in Q1 journals, the QS and THE rankings of the institutions hosting the applicants for the last 5 years, any previously earned TÜBİTAK and TÜBA awards, and any ERC and RIA/IA projects implemented.