Exploitation of academic research results through commercialisation is crucial for economic growth and development. "ArTiS Workshop - Commercialization of Research Outputs: Theory and Practice" aims to facilitate the improvement of new skills and perspectives to develop new applications and markets for academic research results and inventions. "ArTiS Workshop" which will be held between April 5 – June 21, 2021 is being organized by Sabancı University Nanotechnology Research and Application Center – SUNUM, in collaboration with Sabanci University Faculty of Engineering and Natural Sciences. If you are interested please fill in the application form until March 15,2021.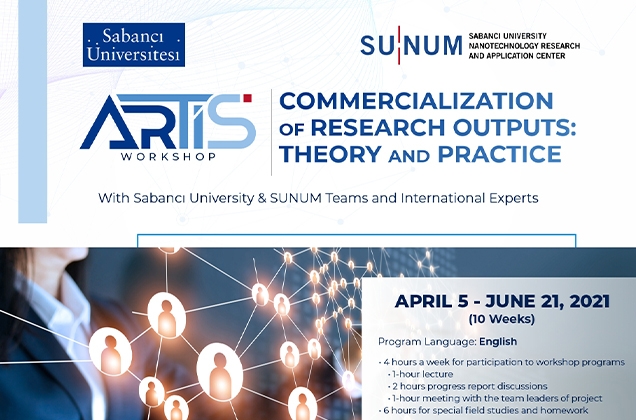 Individuals with entrepreneurship spirit who are undergraduate (3rd year), graduate students or post-doctoral researchers in any field of specialization are invited to apply. The workshop program will consist of online lectures by high-profile international experts as well as discussion and mentoring sessions amounting to a total of 4 hours of active participation and 6 hours of homework per week. Participation Certificates will be issued to successful participants.
For your questions, please send your email to artis.sunum@sabanciuniv.edu.