A team of bioengineers from Sabancı University and Nova Southeastern University (NSU), located in Florida, USA are developing a personalized treatment method that is expected to increase the impact and efficiency of current immunotherapy methods, and allow wide-scale implementation.
The novel method was developed by project co-leaders Tolga Sütlü, Ph.D. (team leader at Sabancı University's Nanotechnology Research and Application Center) and Adil Doğanay Duru, Ph.D. (team-leader at NSU's Cell Therapy Institute and assistant professor in NSU's Dr. Kiran C. Patel College of Allopathic Medicine ) with support from Sabancı University Faculty Member Prof. Batu Erman.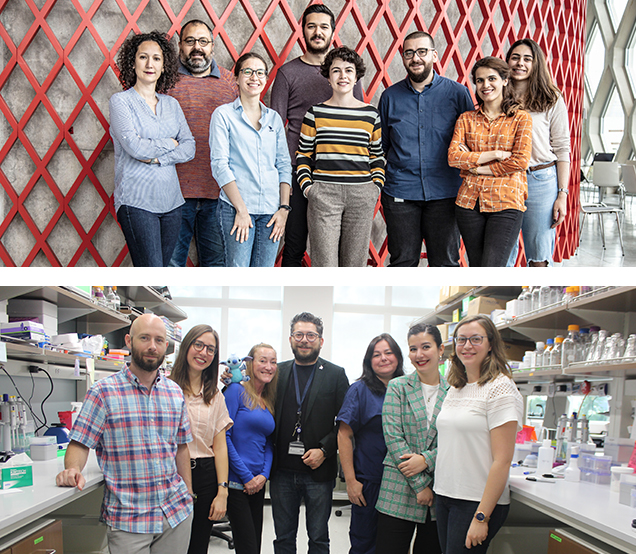 Tolga Sütlü, Adil Doğanay Duru and Batu Erman with
team
The novel method aims to reduce cancer-related deaths through adoptive transfer of genetically enhanced immune cells and was initially developed to treat melanomas. This technology is an immunotherapeutic method that implements T cell receptor (TCR) gene transfer to modify Natural Killer (NK) cells. The innovative strategy genetically modifies NK cells to express antigen-specific functional TCR complexes.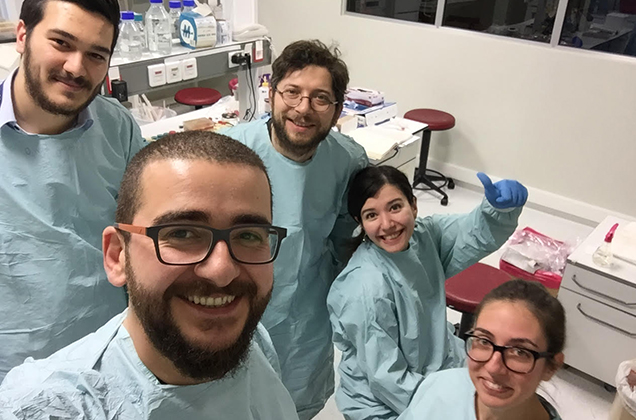 Tolga Sütlü and Adil Doğanay Duru with team
A treatment that does not harm healthy cells
The genes transferred using this approach enable NK (Natural Killer) cells to identify molecules specific to cancer, and differentiate between healthy and tumor cells. As a result, the cells target and destroy cancer cells exclusively, without harming healthy tissue. The approach also expands the applicability of immunotherapy, facilitating the development of new treatment methods.
According to the research team, there are two main groups of cells in the human immune system that may be used for such treatment approaches. The first, and more popular group, is T-cells, with the other being NK cells. CAR-T cells lead the way in cellular immunotherapy approaches that have become prominent in recent years and promise improvements in cancer treatment. CAR-T cells currently show great clinical success by targeting molecules on the surface of cancer cells to distinguish them from healthy cells. The TCR-NK cells developed in this project operate with a mechanism that is distinct from CAR-T cells. They can target molecules located not only on the surface of cancer cells, but inside them as well, it means they can reach places that are inaccessible to CAR-T cells.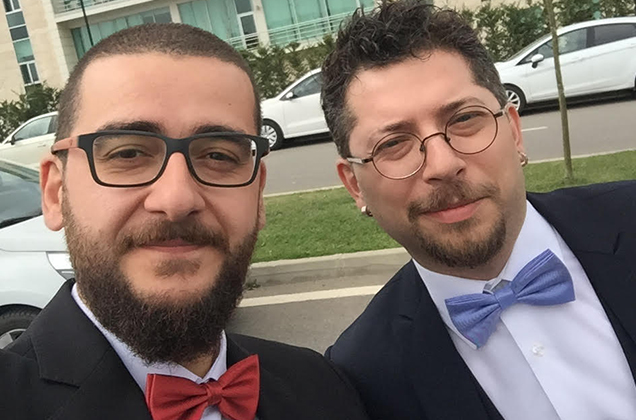 Tolga Sütlü and Adil Doğanay Duru
Treatment suitable for other forms of cancer
Nova Southeastern University and Sabancı University research teams achieved promising results when TCR-NK cells were initially tested against human melanoma (a form of skin cancer) cell lines in the laboratory and in mouse models. Furthermore, this technology can be adapted to target any other form of cancer and the team initially plans to investigate prostate cancer and sarcoma. Following the success of further in vitro and in vivo pre-clinical investigations that is expected to take another three years, clinical studies will be initiated.
Note to Editors:
The most popular immunotherapy technologies available today (monoclonal antibodies or CAR-T cells) can only target molecules on the surface of cells. There are almost 5000 genes that code the proteins on the surface of a cell. This translates to almost 5000 chances to identify and destroy cancer cells. The immunotherapy methods used in clinical studies work on one of these 5000 molecules.
On the other hand, there are 12,000 genes that code intracellular proteins. However, the immunotherapy technologies developed for identifying these intracellular molecules (TCR-T cells) are problematic due to each T cell inherently expressing their own TCR already. This has prevented TCR-T cells from developing to the level of CAR-T cells and finding widespread clinical applications. Targeting of intracellular molecules was only possible using pharmaceuticals and stayed mostly out-of-reach for immunotherapeutic approaches except for secreted proteins.
The novel approach has led to the development of a functioning technology that can target each of the 12,000 different proteins inside the cell using immunotherapy. The researchers achieved this by transferring the problematic technology in T-cells to NK-cells, creating TCR-NK cells and eliminating the problem entirely rather than mitigating it. Thanks to this approach, there are an additional 12,000 chances of identifying cancer cells on top of the existing 5000 chances. This is an invention that expands the area of effect of all immunotherapies, which will accelerate the development of many novel treatment methods.
Reference:
Parlar A, Sayitoglu EC, Ozkazanc D, Georgoudaki AM, Pamukcu C, Aras M, Josey BJ, Chrobok M, Branecki S, Zahedimaram P, Ikromzoda L, Alici E, Erman B, Duru AD, Sutlu T. Engineering antigen-specific natural killer cell lines against the melanoma-associated antigen tyrosinase via TCR gene transfer. Eur J Immunol. 2019 May 4. https://doi.org/10.1002/eji.201948140 
About Tolga Sütlü https://sutlulab.com/
Dr. Tolga Sütlü received a B.Sc. degree in Biological Sciences and Bioengineering from Sabanci University in 2004. He obtained his PhD in Medical Sciences from Karolinska Institutet in Stockholm, Sweden in June 2012 where he studied the expansion and genetic modification of human natural killer cells for adoptive immunotherapy of cancer. He rejoined Sabancı University in 2014 and is currently a research group leader at the Sabancı University Nanotechnology Research and Application Center (SUNUM).
His research interests focus on immunology in general and cancer immunotherapy in particular. His interests cover the design and optimization of biotechnological processes for personalized medicine applications, including the production of monoclonal antibodies for cancer immunotherapy and genetic modification of immune system cells to target tumor tissue.
He has been recognized with the Science Academy's Young Scientist Awards Program (BAGEP) 2017 Award, METU Mustafa Parlar Foundation Technology Incentive Award, and the Basic Cancer Researcher of the Year 2018 Award by the Molecular Cancer Research Society. He serves as a board member of the Turkish Immunology Society and the Molecular Biology Association of Turkey.
About Adil Doğanay Duru https://www.nova.edu/research/cell-therapy/index.html#TargetedImmunother...
Dr. Adil Doganay Duru received a B.Sc. degree in Biological Sciences and Bioengineering from Sabanci University in 2004 and then in between 2004 to 2007, worked as a research assistant in the Molecular Biology and Genetics Department at Bogazici University, Istanbul. He received his Ph.D. from Karolinska Institutet (KI), Stockholm in September 2012 where he studied MHC-class I restricted-peptide based immunomodulation of T cells and NK cells.
He carried out postdoctoral studies at the Center for Hematology and Regenerative Medicine, Karolinska Institutet and then in 2015 he was appointed as an Assistant Professor at the NSU Cell Therapy Institute, Dr. Kiran C. Patel College of Allopathic Medicine, Nova Southeastern University (NSU), Florida.
Dr. Duru's research have focused on establishing methods to characterize cancer at multiple levels with the dual goal of (a) understanding the immune correlates of tumors that are non-responsive to current therapies and (b) developing novel targeted and personalized immunotherapies. His overall aim is to develop novel robust and efficient immunotherapy regimens for high-risk cancers with a special focus on multiple myeloma, sarcomas and prostate cancer.
Furthermore, he established and directed the Cell Therapy Core Facility (CTC) at NSU, which is capable of designing, manufacturing, pre-clinical evaluation and optimization of cell therapy products. Currently he is serving as scientific advisor to CTC: https://www.nova.edu/research/core-facilities/cell-therapy/index.html 
About Batu Erman https://ermanlab.weebly.com/
Professor Batu Erman obtained a bachelor's degree from Hamilton College, USA in 1991, followed by a PhD in Molecular Biology from Brandeis University in 1998. He was a postdoctoral researcher on immunology at the US National Institutes of Health and National Cancer Institute until 2004. He has been a member of Sabancı University since then.
Professor Erman's areas of research include cancer, immunology, and transcription factors that control gene expression. He has been recognized with the Turkish Academy of Sciences Award in 2006, and the EU Marie Curie Excellence Award and Feyzi Akkaya Scientific Incentive (FABED) Award in 2008. He was a founding member and board of directors member of the Molecular Biology Association of Turkey founded in 2011.
Sabancı Üniversitesi Nanoteknoloji Araştırma ve Uygulama Merkezi: https://sunum.sabanciuniv.edu/
About Nova Southeastern University (NSU): www.nova.edu
European Journal of Immunology
Reference:
Parlar A, Sayitoglu EC, Ozkazanc D, Georgoudaki AM, Pamukcu C, Aras M, Josey BJ, Chrobok M, Branecki S, Zahedimaram P, Ikromzoda L, Alici E, Erman B, Duru AD, Sutlu T. Engineering antigen-specific natural killer cell lines against the melanoma-associated antigen tyrosinase via TCR gene transfer. Eur J Immunol. 2019 May 4. https://doi.org/10.1002/eji.201948140