Established by Sabancı University and Kordsa in Teknopark Istanbul as a trendsetting business model in composite technologies, the "Composite Technologies Center of Excellence" (KTMM) was visited by a high-ranking government delegation. Government leaders who visited the global technology exporter incluıded Vice President of the Republic Fuat Oktay, AK Parti Izmir MP Binali Yıldırım, Minister of Defense Hulusi Akar, Minister of Industry and Trade Mustafa Varank, President of Defense Industry Professor İsmail Demir and TÜBİTAK Director Hasan Mandal, who were accompanied by Sabancı Holding Board of Directors Chair Güler Sabancı, Sabancı Holding CEO Cenk Alper, Kordsa CEO Ali Çalışkan, Sabancı University President Yusuf Leblebici, Sabancı University Vice President Mehmet Yıldız, Sabancı University Secretary-General Rasim Karas, and SU-IMC Director Bahattin Koç.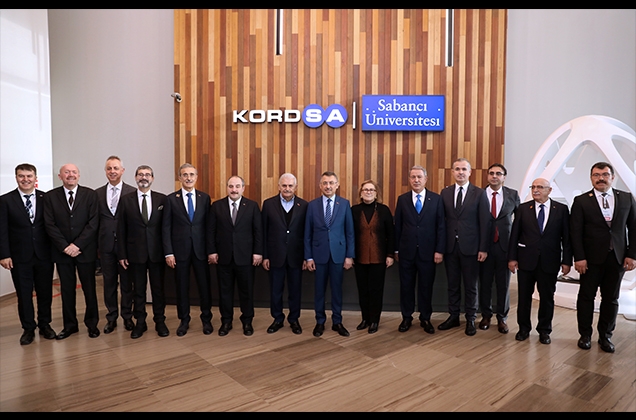 The visit to the Composite Technologies Center of Excellence, which has AS9100 aerospace manufacturing quality certification and ISO 17025 testing accreditation, included tours of the Mechanical Testing and Structural Health Monitoring Laboratory, Additive Manufacturing Laboratory and Advanced Composite Technologies Laboratory, where aviation-related projects are being carried out. Sabancı University faculty, researchers, engineers and graduate students conductr design, analysis and R&D for critical aerospace parts that are manufactured using composite materials and additive manufacturing technologies.
Recent developments in the Kartal Project were shared with attendees. The "Kartal" project aims to develop rotor blades for "Gökbey", Turkey's first domestically-developed general purpose helicopter, with the intention to end import dependency in rotor blade materials.
A key feature of the Sabancı University-implemented project is a system of fiber-optic sensors that feed live data on the fatigue loads encountered by aircraft during flight. If the project is scaled to next-generation aircraft, the technology has the potential to greatly reduce maintenance downtime, and provide real-time data about the remaining structural life of airframes.
Information was given about hybrid additive metal manufacturing technologies that are used to make complex and critical jet engine parts which cannot be produced using conventional methods and cause Turkey to remain import-dependent. The technology, currently owned only by Sabancı University in Turkey, enables prototyping all engine parts.
The tour of the Advanced Composite Technologies Laboratory included a briefing about the automatic fiber-laying machine and other robotic manufacturing systems that can produce defense and aviation systems in complete automation with no human involvement. The technology allows making aerospace structures up to 6 meters in length and 3 meters in diameter using carbon fiber strips. It is the only capability of its kind in Turkey and one of few similar capabilities around the world.
Established with the partnership of Kordsa and Sabancı University, the Composite Technologies Center of Excellence has 3500 square meters of laboratory space in a facility of 15 thousand square meters, where the production of composite materials for automotive and aviation industries will help to reduce import dependency in Turkey. The Center is a manufacturing facility and one of the leading test centers of the world employing 15 faculty members, 92 researchers, engineers and technicians, and 55 PhD students.