The eighth semester of the Mercator – IPC Research Fellowship Program, initiated by Sabanci University Istanbul Policy Center in collaboration with Stiftung Mercator, has started. During the welcoming event held in Soho House Istanbul new researchers of the new period and their topics are introduced.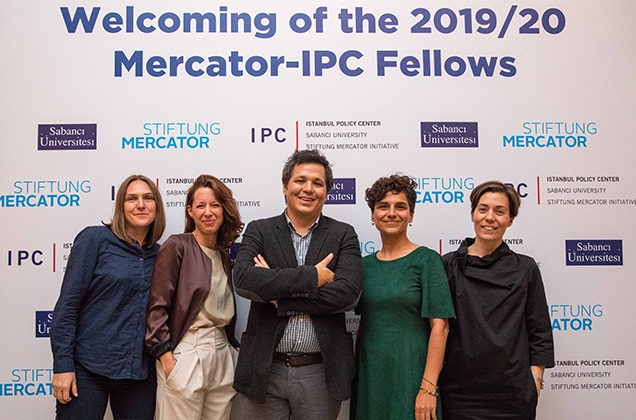 The new researchers of the most important component of the Istanbul Policy Center- Sabancı University-Stiftung Mercator Initiative, Mercator – IPC Research Fellowship Program, were introduced with a meeting. Aiming to improve the academic, political and societal relations between Turkey and Germany, Turkey and Europe, IPC Fellowship Program held a welcoming event in Soho House Istanbul for the new period of the program. While Fuat Keyman Vice President of Sabancı University and IPC Director and Michael Schwarz, Director of Stiftung Mercator have made the opening speech; the event continued with the speeches of Senem Aydın-Düzgit, IPC Research and Academic Affairs Coordinator and Mercator-IPC Senior Scholars Atila Eralp, Aslı Aydıntaşbaş and Michael Thumann.
"Scorecard for Eight Years: Strong and Consolidated Ties between Germany and Turkey"
Speaking at the opening of the event, Vice President of Sabancı University and IPC Director Fuat Keyman stated that this is the eighth year of the program and the program welcomed 51 researchers and 14 senior scholars, hosted more than 250 panels in Turkey and abroad, conference, that they organized events such as book introduction; and said they are cooperating with more than 30 national and international organizations. Keyman stated that they have published more than 100 global publications within IPC, they have prepared and published hundreds of columns, academic articles and presentations in different channels, and they have held four meetings in Istanbul within the scope of its alumni network.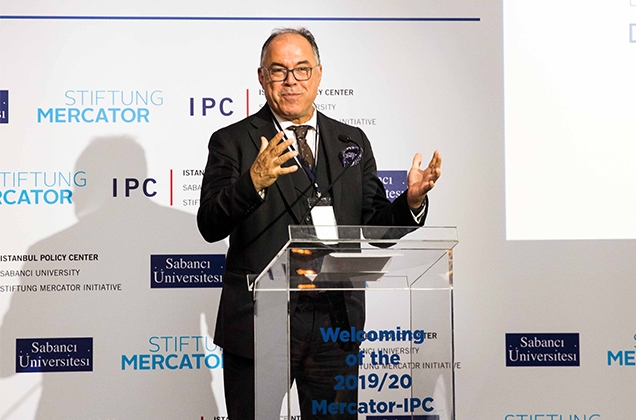 Emphasizing that IPM operating under the roof of Sabancı University is represented in the last COP (International Climate Change) Conferences in Warsaw, Lima, Paris and Bonn and it is considered as a significant connection point by Turkish academicians and media, Keyman continued his words as follows,
"When our IPC was established eight years ago, our vision, we determined our vision as academic meticulousness, creativity, interest, teamwork and friendship. In terms of the relationship between Turkey and European Union-Germany, our goal is to create a new driving force to increase the partnership in this field. We stressed in our projects the role European Union in the democratization and the political transformation in Turkey. We also focused on the modernization of the customs union and refugee problems. Until now, we have examined our studies within the context of the situation of Syrians coming to Turkey and the policies determined for them.
In terms of climate change, we have become a center in Turkey with the activities that we organize and support in order to create network, recommend policies and create public awareness. Low-carbon building, regional role of Turkey in energy policies and coal policies were also included in our projects."
While finishing his speech Keyman, thanked the Güler Sabancı, Chairman of the Board of Trustees, Yusuf Leblebici, Rector and Senior Advisor Kemal Derviş for their support and trust in IPC and Rudiger Frohn, Michael Schwarz, Anne Duncker and Jannes Tessman from Stiftung Mercator for their cooperation.
Michael Schwarz: "People Make a Difference. IPC made a difference"
Speaking at the meeting, Stiftung Mercator Director Michael Schwarz stated that many things have changed since the establishment of IPC – Sabancı University - Stiftung Mercator Initiative and continued his words as follows: "We had the opportunity to express different views and the chance to strengthen the same views. IPC is a very good example of how people can make a difference."
Mercator-IPM Researchers of 2019/20 will continue to work in a wide range covering EU-Germany relationships and Climate Change such as Turkey's geopolitical role through Baku-Tbilisi-Kars railway in Europe-Asia Connection; the inclusion of the Syrians in the labor market of Turkey; the roles of non-governmental organizations in Turkey and Germany in inclusive education practices; management of urban water demand in Istanbul and Berlin and the role of energy cooperatives in democratic energy transformation.
At the end of the meeting, a video including the summary of this year's topics and researchers, Andrea Weiss, Ellen Kollender, Gokce Uysal, Akgun Ilhan and Sinan Erensu 'was aired.