ELAA Teknoloji and Sabancı University Integrated Manufacturing Research and Application Center have partnered to develop a portable mechanical ventilator for COVID-19 patients. The portable ventilator can turn any room and bed into an ICU bed for infected patients, increasing treatment speed.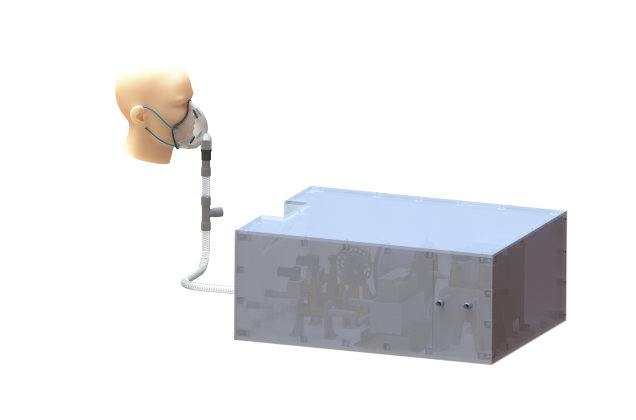 Between 2.4 to 5.6% of all COVID-19 patients suffer respiratory failure and require intubation in an intensive care unit. The tube is removed when the patient recovers enough to breathe on their own. Given that conventional ventilators in intensive care units are too large and bulky to carry around, and too few in number, this portable and practical ventilator can turn any room occupied by a patient into an intensive care unit, thereby increasing the speed of treatment.
Patient rooms become intensive care units
The device is a portable mechanical ventilator that also has electronic control modules which contain the respiratory support modes needed for COVID-19 treatment. This eliminiates the need for an intensive care bed as the ventilator can be used next to any patient bed that has medical oxygen and air connections, or in an ambulance, turning ordinary patient rooms into intensive care units. With most new city hospitals having the design potential of turning any patient bed into an intensive care bed, the ventilator will complement this capacity. The ventilator is expected to be launched in Turkey followed by international markets.
Prototype work underway
The design and technical drawings of the device have been completed, material specifications have been determined, and prototype work is underway. After prototypes and testing are complete, the device will be presented to Turkey Pharmaceuticals and Medical Devices Agency, and mass production will start.
Led by ELAA Teknoloji, a digital medical technology company founded by Thoracic Surgeon Associate Professor Tunç Laçin, MD and Electric and Electronic Engineer Associate Professor Gökhan Bora Esmer, the project also involves Professor Bahattin Koç and his team from the Composite Technologies Center of Excellence, the first university-industry partnership between Sabancı University and Kordsa, who work on the design, validation, prototype production, and testing of the device.