Sabancı University's 18th undergraduate and 21st graduate classes' alumni gathering was held physically on the campus in Tuzla. The ceremony was realized with the participation of Sabancı University President Yusuf Leblebici. Güler Sabancı, the Founding Chair of the Board of Trustees of Sabancı University addressed the alumni with a video message. Guests of Honor of the 2020 Alumni Reunion were Professor Uğur Şahin and Doctor Özlem Türeci, founders of the BioNTech company.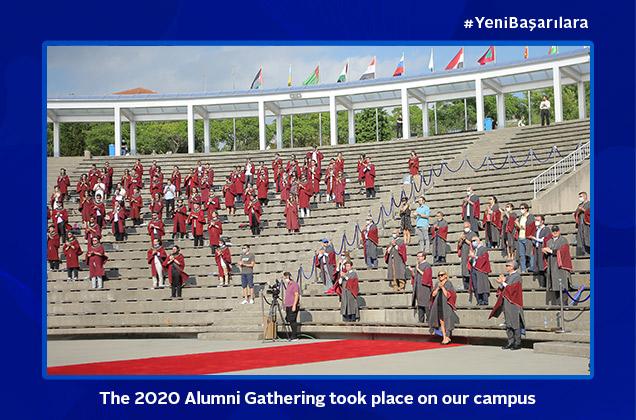 Sabancı University's 18th undergraduate and 21st graduate classes' alumni reunion was held physically on the University's campus. During the ceremony, upon the invitation of Yusuf Leblebici, the President of Sabancı University, a big round of applause was given to Professor Uğur Şahin and Doctor Özlem Türeci for their work for humanity, and to healthcare professionals for their services to people during the pandemic. On behalf of graduate students, Halime Ömrüuzun Seyrek delivered a speech, as well as Ayşenur Öykü Erçin on behalf of undergraduate students.
Addressing the alumni with a video message, Güler Sabancı said they had decided to hold the 2020 alumni reunion considering the acceleration of normalization and vaccination processes and taking all the necessary measures.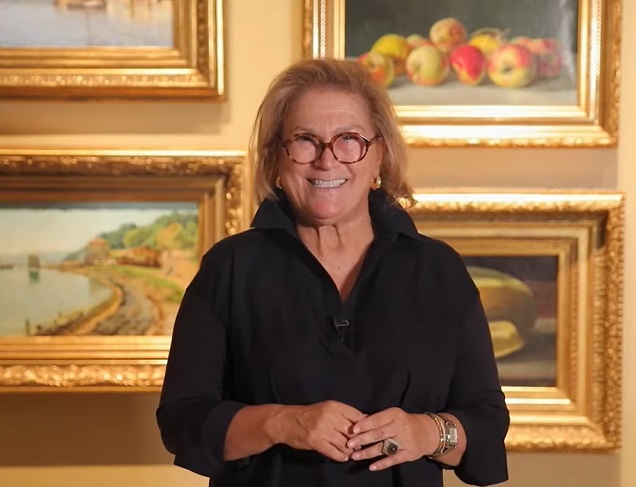 Highlighting that 2020 was a challenging year and we faced a totally different world due to the pandemic, Güler Sabancı said, "In this new world, everything is revisited, redesigned, replanned, and organizations' roles are redefined. To succeed in such a period, two things come to the forefront: First, the ability to find solutions with a versatile perspective, and second, resilience... These two elements are very important not only for individuals but also for companies and institutions. At the heart of this is the ability to embrace and adapt to change quickly. When we talk about the importance of emotional resilience for individuals, we talk about becoming individuals who embrace change, are flexible, adapt to change, and produce solutions instead of complaining. With the education you have received from our University, you will be the leaders who provide solutions to new problems of the new world and contribute to society".
WE AIM ALWAYS TO BE AHEAD OF OUR TIME
Pointing out that Sabancı University always aimed to be ahead of its time, Güler Sabancı said the following: "Last year, we built an effective learning environment through a scientific, rational and participatory process, using all the means made available by technology. You are the first alumni of this education period. Today, as our ambassadors, you represent Sabancı University all around the world. I am sure that, although each of you will head to different directions in your future lives, you will all have great achievements in your own fields. Whether you go for a corporate life or follow an academic career, your achievements will help us promote our university further".
ALWAYS GUIDED BY THE LIGHT OF REASON AND SCIENCE
Sabancı University President Yusuf Leblebici said they were and would always be guided by the light of reason and science. Underlining that the COVID-19 pandemic was a difficult challenge for humanity, Yusuf Leblebici said, "As you all know, we had to tackle the extraordinary conditions imposed by the COVID-19 pandemic during the last 1.5 years. This process presented a really difficult challenge for all of us as individuals, for our families and friends, for the society and institutions as a whole. However, I can proudly say that our University demonstrated the capability to overcome this difficult process with great success, thanks to practices setting examples for other universities. As our distinguished Guests of Honor emphasized, we have been and continue to be guided by the light of reason and science".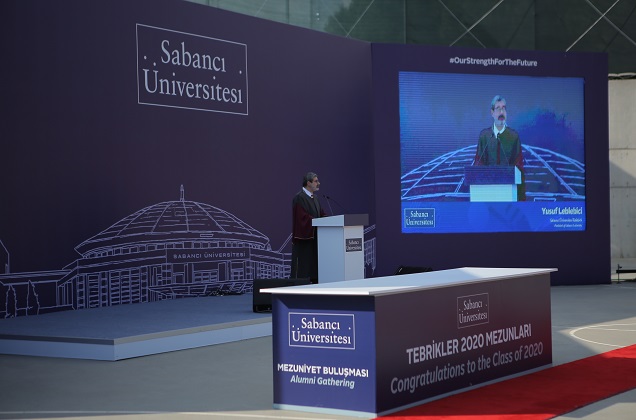 Pointing out that their objective was to become a well-known and appreciated university not only in Turkey but also all around the world, Yusuf Leblebici said, "At Sabancı University, we are proud to be one of the best universities in the country in terms of both the quality and originality of education programs, and of research outputs, which represent the university's contributions to the world of science. As of last year, among all the universities in Turkey, we are the university with the highest minimum required entry score in Engineering and Natural Sciences and in Arts and Social Sciences, and the second highest minimum required score in the Business School. Our centers established in recent years are hosting very large-scale projects in collaboration with huge industrial companies. The TÜBİTAK and EU projects with enormous budgets, implemented by our Integrated Manufacturing Technologies Center and Nanotechnology Research Center, are the sources of the support that will enable our University to make further scientific leaps in these areas".
LIFELONG INSPIRING MESSAGES FROM SCIENTISTS
Professor Uğur Şahin and Doctor Özlem Türeci, founders of the BioNTech company, gave lifelong inspiring messages to the alumni as guests of honor of the Sabancı University 2020 Alumni Gathering.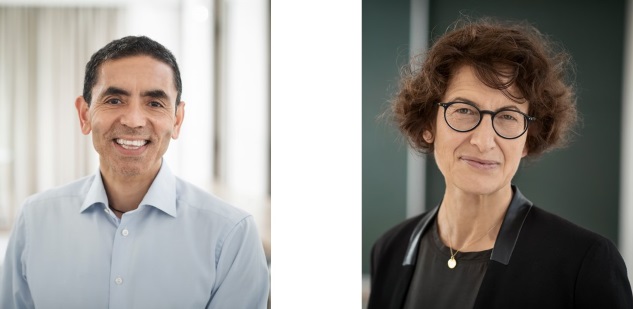 Emphasizing that the pandemic showed the whole world how science and research could make a difference, Professor Uğur Şahin said that, as scientists, they managed to make a difference thanks to their education and more than ten years of research in collaboration with their colleagues, experts and trusted fellows. Congratulating Sabancı University alumni on their graduation, Şahin said, "What you have achieved today will have an impact on your future. Always keep this day in mind because this day is very special for three reasons." Şahin continued, "First, today is your celebration day. A day you celebrate all the hard work and curiosity that got you to this moment. Stay curious. Stand up for the things you care about. By doing so, you will go far and won't get tired of what you are doing. Keep exploring new destinations even if you don't know where this will lead you. What I love most about my work is that every day I can learn from scientific papers, news, data, my wife, my colleagues and even from strangers. Stay open-minded.
"Second, today is a day of gratitude. A day to thank those who have helped you to get there. The people who believed in you, supported you, taught you, cheered you on and dried your tears. Stay close to people who are as motivated as you. Together you will contribute to bigger achievements. Together you can make a difference.
"Third, today is also a day of reflection. Today marks the end of one era of your life and, at the same time, it is the beginning of a new era. It is the perfect time to ask yourself, "What is important to me? How can I contribute to society by fulfilling my duty?" To me, contributing to a certain purpose is what fills me with joy and gratitude. Dedicating my work to improving the lives of many. I am very grateful that we have been able to contribute to the fight against the pandemic and help so many people with our research and work. Today is your work. Be ready to start a new chapter for you, for your families and for future generations. First and foremost, make a difference and try to be useful. Many little things can lead to something big. Be humble, be curious, be faithful. I have always wished that for myself. And now, as you graduate to begin a new chapter in your life, I wish that for you."
"VACCINATION HELPS TO GET A CONTROL OF THIS PANDEMIC"
Uğur Şahin shared his views about his work and the evolution of the vaccination process.
Highlighting that their research focus was to develop medicines for cancer patients and, specifically, to develop medicines to help individual patients, Şahin said, "What turned out is that the technology that we have developed is not only able to develop medicines for individual cancer patients, but the same medicine can be used to develop a vaccine which is useful for mankind." He continued, "The scale does not play a big role. I feel happy if I can help a single individual, as happy as I am that our vaccine has helped humanity to go back to our normal lives." Şahin shared his views of the vaccination and normalization process.
WE WILL GO BACK TO OUR NORMAL LIVES
"I am very confident that we will go back to our normal lives. So, what we are seeing is that vaccination helps to get a control of this pandemic. It is important, of course, that everyone is getting vaccinated. That will most likely happen in Turkey in the next 3-4 months, allowing us really to get not only the infections under control but also reduce hospitalization and continue with our normal life. It is important to consider the lessons from this pandemic that science and collaboration could make such a big difference. Therefore, we should have an optimistic view of the future and invest in science, invest in education, invest in research, and stay open to collaborations."
You can watch Prof Şahin's speech in full from the link below.
IF YOU ARE NOT FAILING, YOU ARE NOT GROWING
Pointing out that she was honored to address the alumni at the commencement ceremony of Sabancı University, which she named as one of the finest universities in the world, Dr Özlem Türeci said, "The skills you have developed over the past years will guide you in the future. They will support you in having an impact on science and society. And, you are in good company. Many alumni from this university including Canan Dağdeviren have made a difference for society."
Stating that, on their personal journey, she and Uğur Şahin had to make many decisions without knowing the consequences or the outcome in advance, Türeci said they were guided by three virtues, namely: courage, humility and perseverance.
Advising Sabancı University alumni to act with courage and humility in all that they did, Türeci said they should not be afraid to fail. She continued, "Continued effort is the key to unlocking your potential, your own superpowers. Failing twenty times and succeeding the twenty-first time. Yes, that is a recurring theme in Uğur's and my life. Early in my career, I realized that if I wanted to accomplish something greater, I had to deal with both success and failure. Don't waste energy trying to cover up failure. If you are not failing, you are not growing."
In her messages to Sabancı University alumni based on her own life experiences, Özlem Türeci said that the easiest, straightforward path was not always the right one and might not necessarily bring them closer to their goal; having the courage to take a left or right on the path might be the route to their actual destination. Stating that it was the path that served their goal, Türeci said, "our goal was to turn science into survival and into a better life for humanity."
You can watch Dr Özlem Türeci's speech in full from the link below.
You can watch our 2020 Alumni Gathering from the link below.