Action Research (AR) PhD Program is designed for high-level professionals who believe that true social change and transformation is possible only by combining academic knowledge with collaborative action. AR is an active, participatory, democratic research methodology that aims to foster social change and transformation.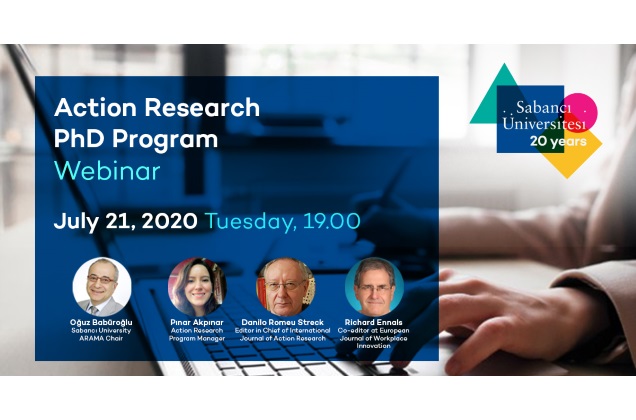 Founded under the ARAMA Chair of Sabancı University in 2020, AR PhD Program is the only program entitled 'Action Research'.
If you are a professional from private corporations, state institutions, local administrations and civil society and interested in advancing your career with an academic program that would enable you to produce the knowledge necessary for transformational management, you are invited to the AR PhD info session on Tuesday, July 21th at 19:00pm via webinar.
The session will address the following questions:
Why Sabancı University Action Research PhD Program?

What is the program's content?

What are the program admission requirements?
For registration, please click.
Looking forward to meeting you!
Prof. Dr. Oğuz Babüroğlu
ARAMA Chair in Action Research
Dr. Pınar Akpınar
Action Research Program Manager
Danilo Romeu Streck
Editor in Chief of International Journal of Action Research
Richard Ennals
Co-editor at European Journal of Workplace Innovation