Applications for the 2023 Hakan Orbay Research Awards, which have been presented since 2013 by Sabancı Business School to keep the memory of Hakan Orbay alive, opened on Wednesday, March 15.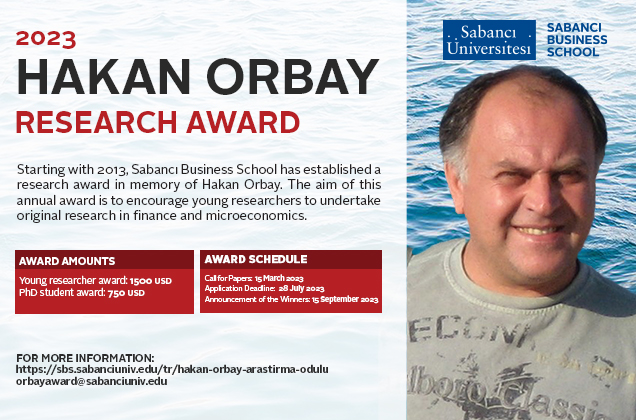 This award program aims to encourage young researchers to undertake original research in finance and microeconomics.
Awards will be presented in 2 different categories, namely "Young Researcher" and "Ph.D. Student".
Please click here for more information.
****
About Hakan Orbay
After graduating from Ankara Science High School in 1979, Hakan Orbay received his undergraduate degrees in Electrical Engineering and Physics from Bogaziçi University in 1983. He obtained his Master's degree in Electrical Engineering from Calgary University and subsequently returned to Turkey to work in the Information Technology area of the banking sector between 1988 and 1991. He kept close links with academia during those years and eventually went to the U.S. for his doctoral studies in 1991. After obtaining a Ph.D. in Economics from Stanford University Graduate School of Business, he worked as a faculty member at Koç University until 1999. Next, he joined Sabancı Business School during its establishment and worked there as a faculty member until his untimely death in 2011. Hakan Orbay produced original research in microeconomics and finance and made important contributions to the establishment and development of Sabancı Business School and the development of the MBA programs, of which he was the director.